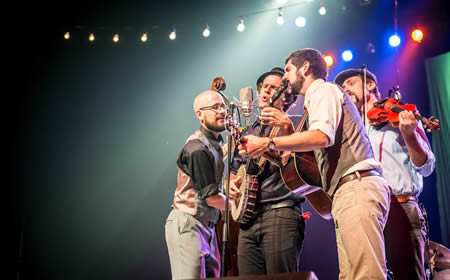 The Steel Wheels to Perform at BlackRock (VIDEO)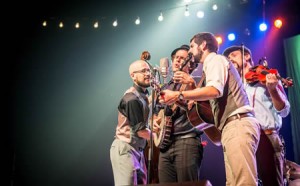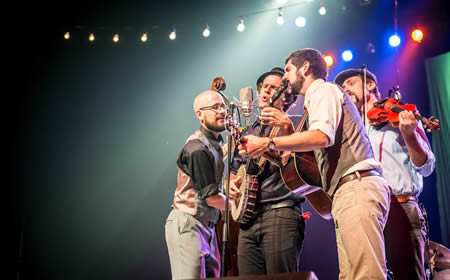 The Steel Wheels perform Friday, December 12 at 8 p.m. at the BlackRock Center for the Arts in Germantown. The Steel Wheels have captured audiences across the country with their heady brew of original soulful mountain music and their deep commitment to roots and community. Based in the Blue Ridge Mountains of Virginia, this dynamic four-piece string band marries old-time musical traditions with their own innovative sound and lifestyle, generating a truly magnetic revival.
The Steel Wheels is renowned for their raw energy and chemistry on stage, where they often cluster tightly around a single microphone to adorn Trent Wagler's unmistakable tenor with bell-clear four-part harmonies inspired by their shared Mennonite heritage. Add to this Eric Brubaker's evocative fiddle, Brian Dickel's grounded upright bass, and Jay Lapp's signature mandolin style, and it's no surprise that The Steel Wheels have enthralled the contemporary Americana scene.
The Steel Wheels perform "We've Got A Fire" in this video:

Their breakout album, Red Wing (2010), spent 13 weeks on the Americana Music Association's Top 40 Chart, where it reached the number 15 slot, and cracked the Euro Americana Chart top 10. The Steel Wheels were nominated for five Independent Music Awards in 2010, with "Nothing You Can't Lose" taking top honors as Best Country Song. Following 2011's release, Live at Goose Creek, The Steel Wheels continued to take the Americana scene by storm with their album, Lay Down, Lay Low (2012), which lingered for 10 weeks on the AMA's Top 40 Chart and was the 2012 Americana Album of the Year from the Independent Music Awards. Additionally NPR Music named "Rain in the Valley" their Song of the Day, marveling that the "heavy hymn […] is sparse and dense all at once." 2013 brought yet another Americana charting release entitled, No More Rain. 

The Steel Wheels are selling out venues across the US and appearing at many of the top festivals in the US & Canada such as Merlefest, Ann Arbor Folk Festival, Fayetteville Roots Festival, Moab Folk Festival, Gettysburg Bluegrass Festival, Riverhawk, and many others.
Tickets are $15 – $28 and may be purchased at BlackRock Center for the Arts website or by phone at 240.912.1058. Tickets for those 25 and under are just $15 with proof of age. BlackRock is located at 12901 Town Commons Drive, Germantown near the intersection of Middlebrook Rd. and Route 118.