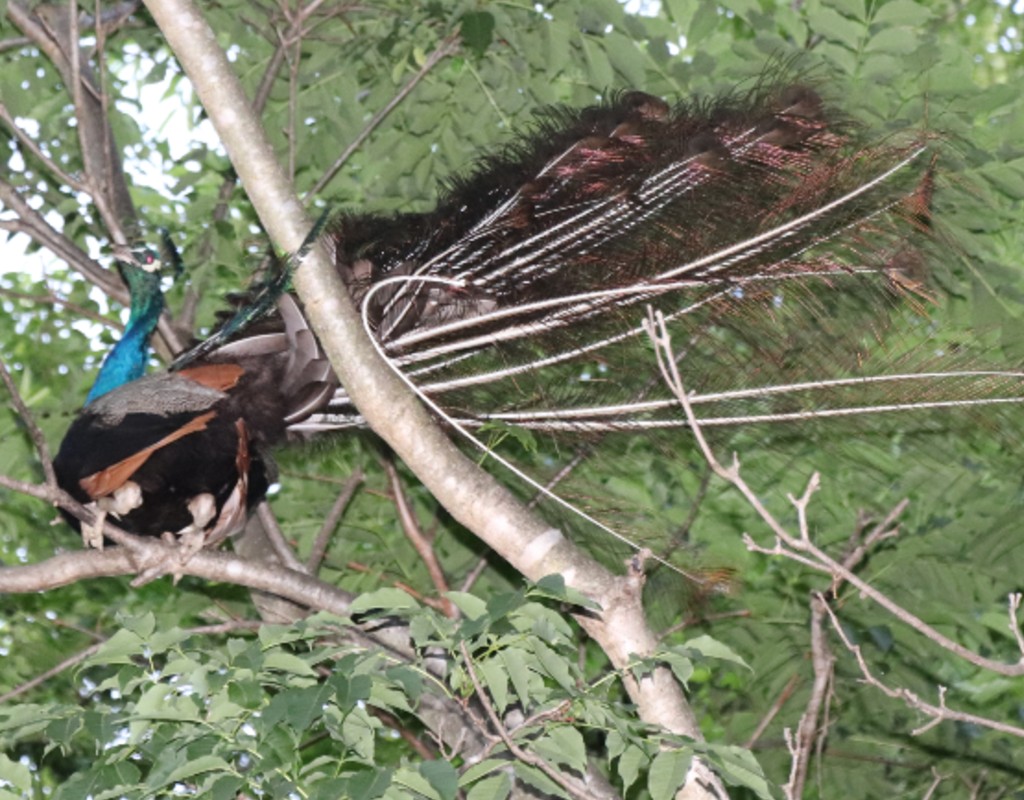 The Tale of the Missing Peacock Found in Brookeville
A missing peacock was found in a Brookeville neighborhood on Wednesday.
Stacey Cyphers of Brookeville said she found the peacock in her backyard in the afternoon and — worried about reports of a peacock getting killed by a car on New Hampshire Avenue on Monday — she and her son Collin waited with the peacock until animal control arrived to make sure it stayed safe.
By the time Montgomery County Animal Control arrived, the peacock had flown into a tree, making it too difficult for animal control to get the peacock down. The representative from animal control told the Cypherses that they should go back to check on the tree in the morning and see if the peacock is still there.
Incidentally, the Cyphers family called their neighbor Bob Worrell who owns his own pet peacock and a turkey. The animal control representative suggested that on Thursday morning the Cyphers family put Worrell's turkey in a cage to lure the peacock out of the tree and into a garage, or somewhere that makes it easy to catch the peacock.
Long story short, there's a missing peacock in Montgomery County. For real.
Anyone Missing a Peacock? Check the Brookeville Area
The tweets below contain photos and videos of the peacock sent to MyMCMedia from Cyphers and Worrell.
Thread: I was just in Brookeville where a peacock was found in a family's backyard. When I arrived the peacock was in a tree. pic.twitter.com/jjEuL1uXy0

— Deirdre Byrne (@DeirdreByrneMCM) May 30, 2019
Here's the peacock just wondering around Cyphers's backyard. pic.twitter.com/LHSNLICoSq

— Deirdre Byrne (@DeirdreByrneMCM) May 30, 2019
The peacock took a water break while hanging out in Brookeville. pic.twitter.com/SYjOHCRPnq

— Deirdre Byrne (@DeirdreByrneMCM) May 30, 2019
Bob Worrell, one of Cyphers's neighbors came over to offer his advice. Worrell owns his own peacock in Brookeville and the missing peacock stopped by his house earlier in the day. Worrell's peacock and the missing peacock got in a fight, so the missing peacock flew in a tree. pic.twitter.com/WgkpXIZTnL

— Deirdre Byrne (@DeirdreByrneMCM) May 30, 2019