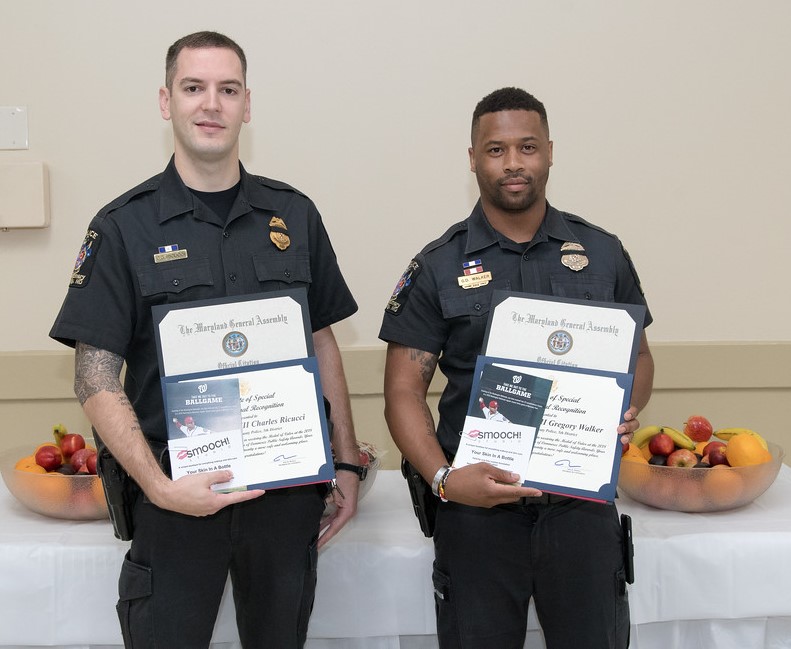 Three Awarded Medal of Valor; First-Ever Community Service Award Presented
The Gaithersburg-Germantown Chamber of Commerce (GGCC) honored twenty-eight Upcounty Police Officers and Emergency Medical Service Technicians at their 23rd Annual Public Safety Awards Breakfast on Friday, July 13, 2018. The event was held at the Montgomery County Fairgrounds.
This event honors our public safety personnel and first responders from Montgomery County Upcounty's Fire Department, Police Departments, Office of Emergency Management, and Office of the Sheriff, who have exemplified extraordinary heroic actions and exceptional performance of their duties.
"Honoring our Police and Firefighters, is the best thing we do all year," said Marilyn Balcombe, GGCC Executive Director. "We are blessed in our community to have our first responders who are willing to put their lives on the line every day to make our families safe.".
They protect our homes, businesses, schools, and families every day. In this time-honored tradition, the Chamber celebrates their achievements, outstanding service, and commitment to the community. The awards program provides the business community with an opportunity to publicly thank those who help maintain the quality of life in the Gaithersburg and Germantown areas.
Public safety officials from the Gaithersburg Police Department, Montgomery County Police 5th & 6th Districts, as well as the County's K9 Unit and the Germantown Volunteer Fire Department in following categories: Medal of Valor, Citation for Bravery, Distinguished Service Citation and Meritorious Service Citation.
Each awardee was given a citation from United States Congressmen John Delaney & State Senator's Nancy King – District 39 & Cheryl Kagan – District 17; along with two tickets to catch a Washington Nationals game compliments of Lerner Enterprises.
In October, Luke Engler was diagnosed with Diffuse Intrinsic Pontine Glioma, a rare form of a pediatric cancer. Officer Dylan Morris is a neighbor of the Engler's and it was his hope that he could do something for Luke to lift his spirits. Therefore, on April 29, 2018, the Montgomery County Police K9 Unit hosted Luke as an honorary K9 handler for the day. Luke's mission was to experience, firsthand, a day in the life of a K9 handler, alongside the members of the MCP K9 Unit.. Officers Christopher Jordan & Dominic Raysick implemented a special day for the young boy. They surprised him with his very own uniform, a ride in the K9 police car, a gauntlet salute with all the K9 dogs, a swearing-in ceremony, a doggy bath, a "chase", hide & seek with Harper – Officer Jordan's K9 Partner-, awarded his own "K9-1" badges & plaques and K9 challenge coins, and then there was a celebration with Mission BBQ, Ledo's Pizza & Luke's favorite restaurant Uncle Julio's. For making Luke feel a part of their team, Officer's Jordan & Raysick are awarded the first-ever Gaithersburg-Germantown Chamber Community Service Award. As for Luke, he inspires those who know him with his bravery, strength, and love of life. Children and teens treated for cancer undergo an overwhelming number of medical procedures. Faced with drug infusions, blood transfusions, surgery, bone marrow aspirates, lumbar punctures, finger pokes, and other invasive procedures, they often have to remain in the hospital for extended stays and sometimes travel to other cities for treatment. Luke has faced all of these challenges with great strength and perseverance. For being brave, Montgomery County Councilmember Sidney Katz proclaimed July 13,2018 as Luke Engler Day in Montgomery County, Maryland.
Officers Charles Ricucci, Gregory Walker and Andre Smith from Montgomery County Police 5th District were awarded the Medal of Valor for going above and beyond the call, safeguarding civilians in a store, and apprehending an armed and dangerous individual last Fall. Officers arrived at Michael's in Germantown and found a man that was disoriented and had a knife. Using their training and knowledge, they were able to tase the suspect, place him into custody and clear the store, with no injuries. As with a great percentage of police incidents this call had the potential to take two decidedly different paths. In watching the body camera video, the officer's supervisor felt that lethal force would have been justified. However, in our everchanging times just because and officer "can" do something, doesn't always mean he "should" do something. Officer Ricucci and Officer Walker had just recently attended in-service training prior to this event. Officer Ricucci correctly communicated, created space, and extended the time needed to make a crucial decision. Officer Walker took advantage of that by employing the taser, instead of using lethal force. Both officers had fallen back on their recent training and put into practice tactics they had just reviewed. In this specific case the right decisions, at the right time, were made by the officers.
Montgomery County Police 6th District Commander Dinesh Patil awarded Police Officers Julia Chesley & Nicholas Hoornstra with the Citation for Bravery after placing themselves in harm's way to ensure that families were safely evacuated during an apartment complex fire on Quince Orchard Boulevard in Gaithersburg.
6D Officer James Lee was able to quickly close a bank robbery case that would have otherwise possibly gone unsolved, due to his sharp memory & the ability to piece meal prior area robberies. His diligence led to the quick identification and subsequent apprehension of this violent armed felon. Because of Officer James' performance in this apprehension, he was awarded the Distinguished Service Citation.
Sergeant Robert Sheehan, Officer Marshall Wieder, Officer Timothy Serlo and Officer William Weill are members of the 6th District Community Action Team (DCAT). This unit is a specialized team that works in our high crime areas in an effort to improve the quality of life for the community. DCAT targets felony crimes, violent offenders and gang members. In the first 90 days of 2018, the members of this team have removed four loaded handguns seized from violent felons on the streets of Gaithersburg in separate incidents. These officers regularly place themselves in dangerous situations to apprehend violent offenders who threaten the safety of our community. These officers were awarded the Distinguished Service Citation for their performance in making our community a safer place from gun violence.
Montgomery County Police 6th District Police Officer Jonathan Roark rescued three families from an intense house fire in Clarksburg, all prior to Montgomery County Fire & Rescue Services arriving. For demonstrating tremendous courage & total selflessness during the event; putting himself at considerable risk to ensure that people were helped to safety, he was awarded the Citation for Bravery.
Montgomery County Police 5th District Police Lieutenant Any Daum presented Police Officer Troy Melott, along with Montgomery County Public School Security Team Leader Allen Long, Security Agent Mike German, and Student Zahir Muid with the Distinguished Service Citation for what could have been another school shooting. Muid had noticed that one of his fellow students had brought a handgun to school, he notified the school security team, and they were able to apprehend the student who had a dagger & a loaded Glock 19 handgun. The courage of one student, the professionalism displayed by this security team & the ability to act quickly in an emergency situation were recognized with this award.
5th District Germantown Detective Jon Marr was awarded for his work on 17 burglary cases that took place in Shadyside Way from January to March 2018, with over $54,000 worth of items taken from the victims. His ability to take information and act quickly lead to the arrest of several people and the return of numerous stolen items take from victim's. His dedication has taken dangerous criminals off the streets. For his efforts, he was awarded the Distinguished Service Citation.
Montgomery County Police 5th District Officer Daniel Riddle serves in his capacity as a law enforcement officer at local sporting events, parades, community days, meetings, and interventions. Riddle continually makes a difference in our community. For his relationship building, communication skills, and service, Officer Riddle was awarded the Meritorious Service Citation.
Police Officer Laura Zito from the 5th District was awarded the Citation for Bravery for her tenacity and courage in apprehending a criminal suspect and removing a firearm from the street. Zito used her police instincts to locate possible escape routes that the suspect may have taken. Without hesitation, she chased and tackled this armed, violent felon and arrested the suspect.
5th District Sergeant Kevin Holmes was awarded the Meritorious Service Citation for his leadership skills and accredited work which includes: in 2017 for 4 thefts from autos, 8 stolen autos, 12 robberies, 12 burglaries and 151 felonies and misdemeanors, Also, in 2017, he has been a part of 58 missions, which include controlled dangerous substances, robberies, shootings, homicides, gang and federal cases.
Gaithersburg Police Officers Nathan Provost & John Duke & Montgomery County Police 6D Police Officer Bryan Volz responded to a fight where the victim suffered a medical crisis from a pre-existing undetected medical condition and collapsed quickly. They assessed the scene, evaluated the patient and provided emergency treatment to the victim. Their quick actions helped revive the victim and gave doctors an opportunity to save his life. Their actions reflect greatly on their training, their dedication to duty and professionalism that they showed in a highly stressful situation and are awarded with the Meritorious Service Citation.
Officer David Bower of the Gaithersburg Police Department arrived on a scene of a man in cardiac arrest. He assessed the situation & performed CPR. Rescue personnel state the patient is alive today because of his actions and he was awarded the Meritorious Service Citation.
Germantown Volunteer Fire Department EMS Provider Masters Matthew Hermanson & Tina Peppel were awarded the Meritorious Service Citation for their commitment to the department, the community over and going above the call of duty.
We were honored to have several elected officials with us including Kagan, State Delegate Charles Barkley & Kirill Reznick – District 39; Montgomery County Council Members Sidney Katz, & Nancy Floreen; and City of Gaithersburg Mayor Jud Ashman. Montgomery County Police Chief Thomas Manger; Montgomery County Sherriff Darren Popkin, Montgomery County Fire Department Chief Scott Goldstein, Montgomery County Police, 6th District Commander Dinesh Patil, Gaithersburg Police Chief Mark Sroka, and Montgomery County Police, 5th District Lt. Amy Daum were also in attendance.
For the eleventh year in a row, Paul Davis Restoration & Remodeling is the Title Sponsor of the event. For more than 40 years, Paul Davis Restoration & Remodeling craftsmanship and care has helped families and businesses overcome the devastating setbacks inflicted by fire, flood and wind.
Additional sponsors include:
Gift Sponsor
Shining Silver Sponsor
Adventist HealthCare Shady Grove Medical Center
Hughes Network Systems, LLC
M&T Bank
Montgomery County EFCU
Therrien Waddell, Inc.
Table Sponsor
Asbury Methodist Village
City of Gaithersburg
Gaithersburg Police Foundation
Herbology
Holy Cross Germantown Hospital
Hughes Network Systems, LLC
Johns Hopkins University
Lerch, Early, Brewer, Chartered
Lerner Enterprises
Rehab 2 Perform
Rodgers Consulting, Inc.
Roos2u LLC
Gift Sponsor
Copper Canyon Grill
Smooch Studio
Public Safety Official Recipient Sponsor
2018 Special Event Sponsors: Bargain Movers & Crown Trophy
Photography Donated by: PhotoLoaf™ – Live. Love. Play. Loaf.
Honor Guard by: Gaithersburg Police Department, Montgomery County Police Department & the Montgomery County Sheriff's Department
Randy Scritchfield, President of Randy Scritchfield, CFP®, was the Master-Of-Ceremonies
#
About the Gaithersburg-Germantown Chamber: The GGCC is active in providing business-to-business networking opportunities throughout the year: a collective voice in local, regional, and state legislative affairs, professional development opportunities and other services that enhance the business environment. The GGCC is located at 910 Clopper Road, Suite 205N, Gaithersburg, MD. To learn more about the GGCC visit us at www.ggchamber.org. Find us on Facebook at: http://www.facebook.com/pages/Gaithersburg-Germantown-Chamber-of-Commerce/64339954570. Or on Twitter at @GGCCNEWS.