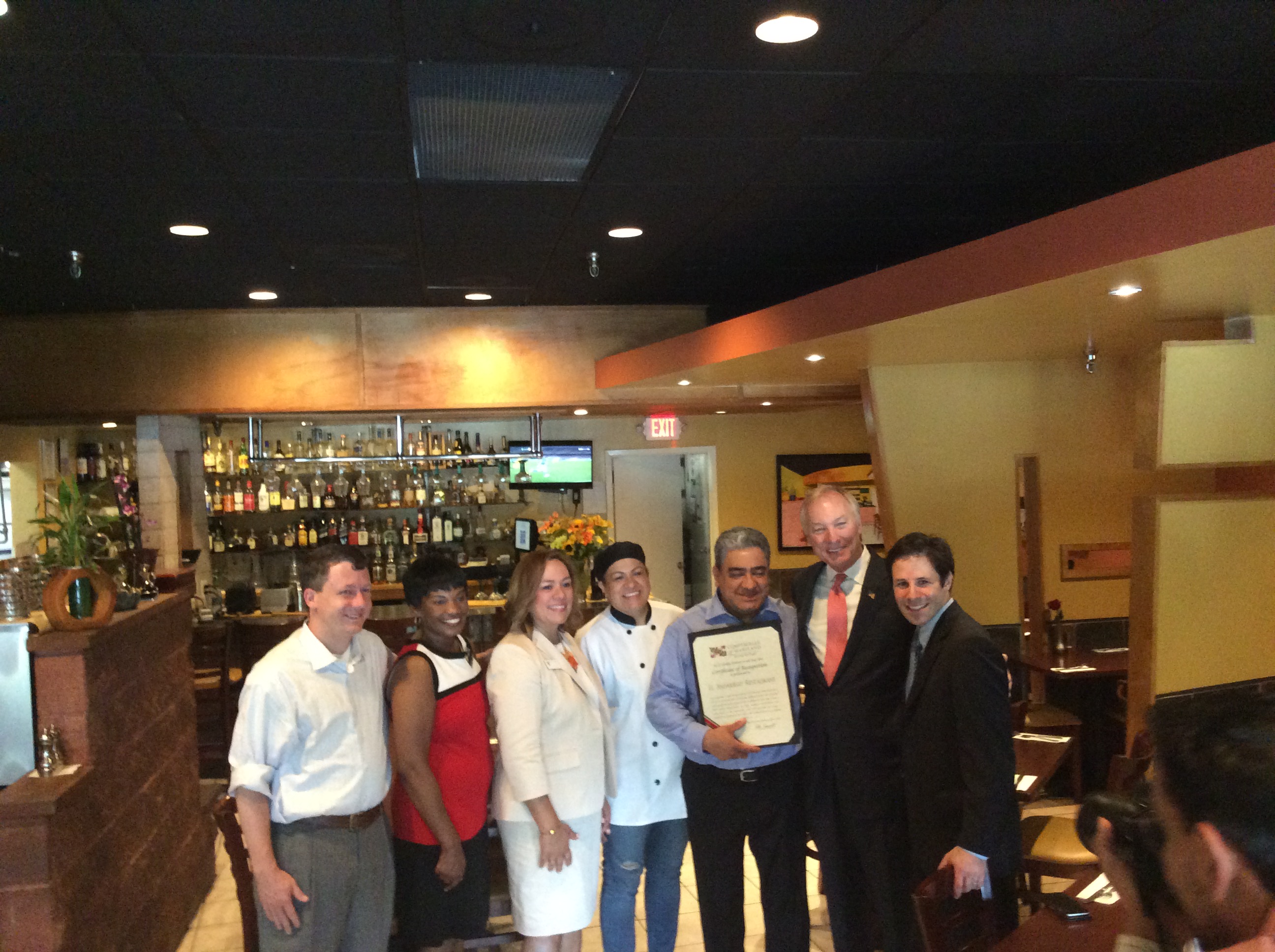 UPDATED: Three County Businesses To Be Recognized By The State (PHOTOS & VIDEO)
UPDATED: Maryland Comptroller Peter Franchot joined State Senator Craig Zucker (D) of District 14, Delegate Pamela Queen (D) of District 14 and Montgomery County Councilmember Nancy Navarro to recognize three local businesses for their customer service and longevity in the community early Wednesday.
In a recent visit to Ashton, Dempsey's , El Andariego and Christopher's Hardware were chosen to receive the proclamations by Franchot.
In this MyMCMedia Extra Video, Franchot explains why small businesses are essential to Maryland's economy:
Original Post 6.17.17 Maryland's Comptroller, Peter Franchot, will present proclamations to three Montgomery County businesses on June 14.
Dempsey's of Ashton, El Andariego and Christopher's Hardware will be recognized for their contributions to the community, according to a news release.
"This is part of what the Comptroller does on a regular basis," Barbara Sauers, spokesperson for Maryland Office of the Comptroller said. "He goes out and talks to business owners and recognizes them for their business longevity and longtime community support."
According to Sauers, businesses are selected to receive a proclamation from Franchot by word-of-mouth from residents or research done by him and his staff.
Below is more information about the businesses being recognized:
Dempsey's of Ashton 
Mike Slonin and his staff are being recognized for the restaurant's reputation for providing good food and customer service. Dempsey's, which was opened in 1993, is a popular hangout for business people and local residents from the surrounding Olney communities.
El Andariego (translated as "The Wanderer")
Owners Jaime and Cristina Vasquez founded this restaurant in 1999. The family-run eatery specializes in authentic Mexican and Salvadoran food. The restaurant was named as a result of the couple's quest to set down roots in a community they could call home.
Christopher's Hardware
A family-run retailer in Sandy Spring owned by Tom and Glenna Christopher. The Comptroller will recognize the business' success and the Christophers' active involvement in the community. The family opened their first store in 1980 and they continue to operate this location as well as one in Glen Echo.
Here's at Dempsey's of Ashton where owner Mike Slonin will be recognized by @peterfranchot for his customer service @mymcmedia pic.twitter.com/ArO87S2JDL

— Mitti Hicks (@MittiMegan) June 14, 2017
Mike Slonin, owner of Dempsey's of Ashton is being recognized by @peterfranchot for his long standing service to the community. @mymcmedia pic.twitter.com/2RroLEkTY4

— Mitti Hicks (@MittiMegan) June 14, 2017
Also here is @nancy_navarro @SenatorZucker and @DelPamQueen @mymcmedia pic.twitter.com/sCmKEqvLUL

— Mitti Hicks (@MittiMegan) June 14, 2017
El Andariego Restaurant is also being recognized today by @peterfranchot @mymcmedia pic.twitter.com/brsAg2KxfF

— Mitti Hicks (@MittiMegan) June 14, 2017