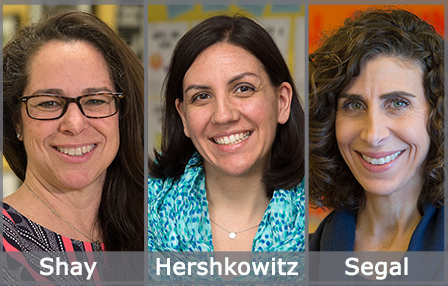 Meet the Three Finalists for MCPS Teacher of the Year Award (PHOTOS)
Three teachers from Montgomery County Public Schools  have been named finalists for the 2016–2017 Teacher of the Year Award by the Marian Greenblatt Education Fund.
The three finalists are:
Nancy Shay, is a English resource teacher at Richard Montgomery High School in Rockville. As the English Department head, she has elevated the work of other teachers through data analysis, sharing best practices and peer visits. She fostered a teacher-driven movement to teach literacy across the curriculum, and is a regular trainer at International Baccalaureate workshops around the country. Under her leadership, notably her own decision to teach 9th grade English rather than focusing solely on International Baccalaureate students, the minority student achievement gap has narrowed measurably at her school. Shay also co-leads the after-school Homework Club, which provides academic coaching, tutoring, mentoring and support for students, and coordinates monthly RichTalks, schoolwide conversations about race and culture. Shay is a National Board Certified teacher.
Melissa Segal, is a fourth grade teacher at Luxmanor Elementary School in Rockville.  She has implemented several mindfulness strategies into her daily routines, which helps students clear their minds and focus their thoughts. In one of her assignments, fourth graders interviewed local business owners, then came up with their own business plans offering various services, which they presented in a Shark Tank scenario. Active in PTA and school-sponsored events, Segal can be found waiting tables at Run the Diner Night, scooping ice cream at Baskin-Robbins fundraisers, or planting flowers around the school.
Cherin Hershkowitz, is a math content specialist at Roberto Clemente Middle School in Germantown. Hershkowitz designed schoolwide data monitoring tools to improve instructional decisions and placements. Beyond the classroom, she planned and facilitated "Math Nights" to help parents better understand Common Core. She is often present during Clemente community events, such as the school's first 5K; the Rock the World concert, where Clemente raised money for a sister school in South Africa; and a program to provide holiday gifts to families in need.
The Greenblatt Education Fund is also honoring Yecenia Morales, a Spanish teacher at Wheaton High School, and Amra Nansimbi, a fourth grade teacher at Glenallan Elementary School, as the 2017 Rising Star Teachers of the Year. This award honors teachers with less than five years of experience whose creativity and enthusiasm encourages students to stretch themselves and achieve more.
To be considered as a finalists for the Teacher of the Year Award, teacher must have five years or more of teaching experience in Montgomery County, conduct an interview by a panel of educators, Board of Education members, MCPS staff and representatives from the Montgomery County Council of PTAs, as well as a member of the Greenblatt family.
The teachers, along with other MCPS employees and partners, will be honored for at the  Champions for Children Awards Celebration hosted by MCPS and the Montgomery County Business Roundtable for Education. The MCPS Teacher of the Year will be named during the event, which will take place on Wednesday, April 26, at BlackRock Center for the Arts in Germantown.
Congrats to Cherin Hershkowitz, Melissa Segal and Nancy Shay, who are finalists for the 2017-2018 MCPS Teacher of the Year! pic.twitter.com/JziukBbKd4

— MCPS (@MCPS) March 17, 2017