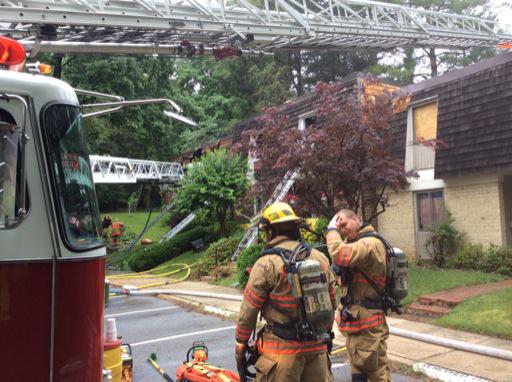 UPDATED: Three Townhomes on Fire in Gaithersburg
UPDATED, June 2, 5:30 p.m. –  Firefighters have put out the fire that damaged three townhomes in Gaithersburg.
Montgomery County Fire and Rescue Spokesperson Pete Piringer said one family will be displaced but there are no injuries. Piringer estimated damages in excess of $500,000 combined. Owners of one of the townhomes was expected to move in today. That townhome has an estimated $100,000 in damages.
19031 Coltfield Ct; Damage $250K structure, $100k contents; 19029 Coltfield Ct, Damage $100K, resident move-in today! pic.twitter.com/mJVYFGznPZ

— Pete Piringer (@mcfrsPIO) June 2, 2015
ORIGINAL – Firefighters are battling a blaze in Gaithersburg that involves portions of three townhomes.
According to Mongtomery County Fire and Rescue Spokesperson Pete Piringer, a fire at a townhome on Cottfield Court has spread to portions of two others. Montgomery County Police have closed Watkins Mill Road between Travis Avenue and Stedwick Road while firefighters continue to try to put out the fire.
Update – Cottfield Court, fire involves portions of 3 townhouses, 2nd floor & attic areas

— Pete Piringer (@mcfrsPIO) June 2, 2015
Update – 2-Alarm TH fire, Cottfield Ct, G'Burg, fire through walls & ceiling with extension, FFs engaged in fire fight — Pete Piringer (@mcfrsPIO) June 2, 2015
Watkins Mill Rd. closed between Travis Ave. & Stedwick Rd. reference @mcfrsPIO TH fire on Cottfield Ct. pic.twitter.com/8XwaKffavp

— Montgomery Co Police (@mcpnews) June 2, 2015