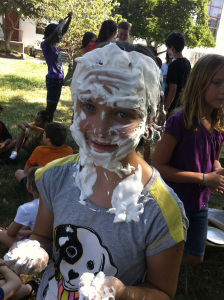 Throw a Pie to Help Set a World Record March 22
I can't resist spreading the word about this event.
Imagine a day where you can literally run away to the circus! Clowns, jugglers, stilt walkers, circus shows, and to top it all off, imagine helping set a Guinness World Record for the biggest pie fight ever? Just like in your favorite slap stick comedy. And all in the name of a terrific charity, Bridges to Housing Stability. The details are below. Kids of every age — and those who are still kids at heart — are all welcome. Please support them.
Betty and Greg May, want to invite you to The World's Largest Shaving Cream Pie Fight!  presented by Center Ring Circus School. Proceeds to benefit Bridges to Housing Stability. Every family should have a home.
Face it. Haven't you always wanted to hit someone with a shaving cream pie? Just think about it. You load a paper plate with a mound of shaving cream and – WHOP – you stick the pie into his or her face and smear it around so it's nice and gooey.
In the hair, up the nose… Oh, the satisfaction of it all!
Here's your chance! On Saturday, March 22, 2015 at 11 a.m., the Center Ring Circus School will try for the World Record for shaving cream pie fights. If all goes as planned, we will be in the Guinness Book of World Records! Come alone! Bring the family! Bring a friend! Bring a Team! Bring a towel! Be prepared to have a pie-filled good time!
While the actual event will be at 11 a.m., come early for pre-fight family fun: Circus Shows, Music, Stilt Walkers, Juggling school, Balloon Sculptors and More!
The Guinness people have all sorts of rules for qualifying for a spot in the book. We have followed them all to the letter. All we need is YOU!
For details and a registration form: Visit www.crowdrise.com/piefight or the Center Ring Circus School Facebook page.
Center Ring Circus School
6770 Oak Hall Lane, Columbia, MD 21045
443.996.8197 centerringcircusschool.com