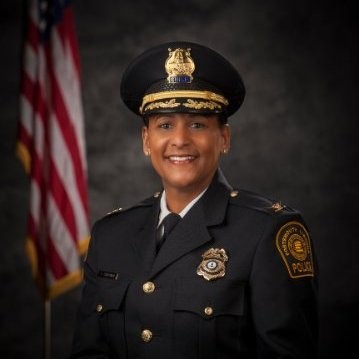 UPDATE: Tonya Chapman Out; New Police Chief Candidate Expected This Week
Update, 5:10 p.m.: Tonya Chapman, who had been County Executive Marc Elrich's choice to be Montgomery County's next police chief, wrote that she withdrew her application "with a heavy heart," in a letter addressed to Elrich and dated Tuesday. She said she realized "this may not be a good fit."
Here's the text of the letter:
It is with a heavy heart and much deliberation that I regretfully inform you that I am withdrawing my application as Chief of Police for the Montgomery County Police Department and declining the job offer.  This is truly a difficult decision for me after weeks of going through the process and meeting with various representatives. However, after long and thoughtful consideration, I realize this may not be a good fit; therefore, I am withdrawing my application for personal reasons.

I want to personally thank you for the confidence bestowed upon me in considering me as your nominee and all of the assistance provided by your team during this process. I wish you the best with your future endeavors.
---
Update, 3:17 p.m.: County Executive Marc Elrich released this statement concerning Tonya Chapman's withdrawal from consideration to be Montgomery County's next police chief:
I have received a letter from Tonya Chapman stating that she has withdrawn her name from consideration to be Montgomery County's next chief of police. She brought a wealth of experience and knowledge that would have been good for the County. I wish her the best in her future endeavors.

Public safety remains a top priority for me and my administration; and I will move expeditiously, and carefully, to identify a new candidate for police chief for our County.

Over the course of the past few months, I have received significant input from the community, and I am confident I will be able to select a new police chief soon.
---
Original story: Three sources in Montgomery County government have confirmed to MCM that Tonya Chapman, County Executive Marc Elrich's pick to become the county's next police chief, is no longer seeking the position.
One source said County Council members were being informed Tuesday of Chapman's decision.
None of sources would allow their names to be published.
One source said that by the end of the week, a new candidate would be announced.
Chapman and Takoma Park Police Chief Antonio DeVaul were the two top choices for chief. Then, on July 17, DeVaul exited the competition, leaving Chapman as the sole contender.
Even so, for the days afterward, Elrich would only refer to his police chief candidate with feminine pronouns without using her name. On July 22, he finally named Chapman as his top choice.
"Of all the groups that talked with her, we had a number of people meet with her … she was the top pick among the people who interviewed candidates for this," Elrich said in a July 22 interview.
In this video, Elrich describes why Chapman was his choice for new chief:
Former chief Tom Manger announced he was leaving the force in January to take a position with the Major Cities Chiefs Association.
Elrich nominates Manger's successor. A majority vote of the council would allow the person to assume the leadership of the county's 1,300 police officers.
Chapman's selection came with some controversy. She was asked to resign from her position as police chief in Portsmouth, Va. Details about why were never made public.
"There's been more contention than you'd like to see in this position," Councilmember Hans Riemer said.
Chapman, however, did win the support from Jews United for Justice, the NAACP and CASA of Maryland.
This story will be updated.