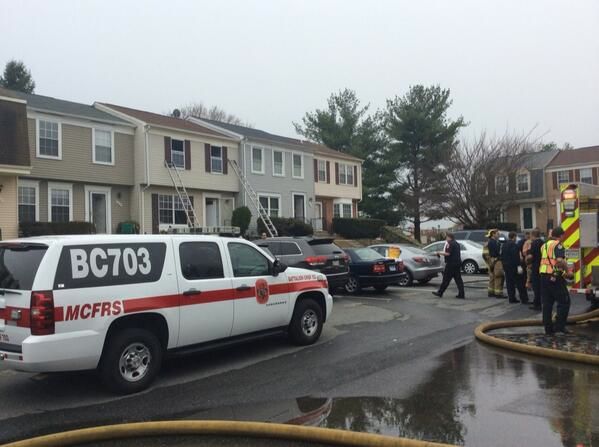 Townhouse Fire in Gaithersburg
UPDATED Montgomery County firefighters were called to a basement fire at 412 Carousel Court in Gaithersburg on April 3.
Fire Spokesperson Pete Piringer reported on his Twitter account that two young children and two adults were transported to the hospital, including a grandmother who he said was seriously injured.
According to Piringer, there was no working smoke alarm in the residence.
Piringer said the cause of the blaze is believed to be a lamp on a mattress in a bedroom. He said damage is estimated at $65,000.
Firefighters canvassed the neighborhood after the incident and installed seven smoke alarms and 10 batteries after visiting 27 homes.
U/D Carousel Ct; Damage $50K to bldg, $15K contents; Area of Origin Bedroom; probable Cause lamp on mattress pic.twitter.com/HOWrLa3a2S

— Pete Piringer (@mcfrsPIO) April 3, 2014
@mcfrs FFS installed 7 smoke Alarms & 10 batteries after visiting 27 homes on Carousel Ct, the scene of serious fire pic.twitter.com/wLgBI6qYZZ

— Pete Piringer (@mcfrsPIO) April 3, 2014
Gaithersburg-NO smoke Alarm at 412 Carousel Ct, scene of fire – FFs checked 27 homes & installed 15 alarms/battery pic.twitter.com/5KM8ki9kDd

— Pete Piringer (@mcfrsPIO) April 3, 2014
Carousel Ct, no smoke alarms, 25 YO female assisted 2 & 3 year old kids out, grandmother in bsmt serious inj pic.twitter.com/yEYLlMbfl4

— Pete Piringer (@mcfrsPIO) April 3, 2014
U/D 412 Carousel Ct, Gaithersburg – Townhouse fire, total 4 EMS transports, 2 adults & 2 kids – no smoke alarms pic.twitter.com/T7NfEjIvvx

— Pete Piringer (@mcfrsPIO) April 3, 2014
U/D 412 Carrousel Ct, Gaithersburg, fire in bsmt of townhouse, EMS evaluated & transported multiple occupants pic.twitter.com/QEiClf4tEY

— Pete Piringer (@mcfrsPIO) April 3, 2014
U/D – Carousel Ct, Gaithersburg – heavy fire in bsmt utility room, fir knocked, EMS evaluating 1 occupant w/ burns

— Pete Piringer (@mcfrsPIO) April 3, 2014