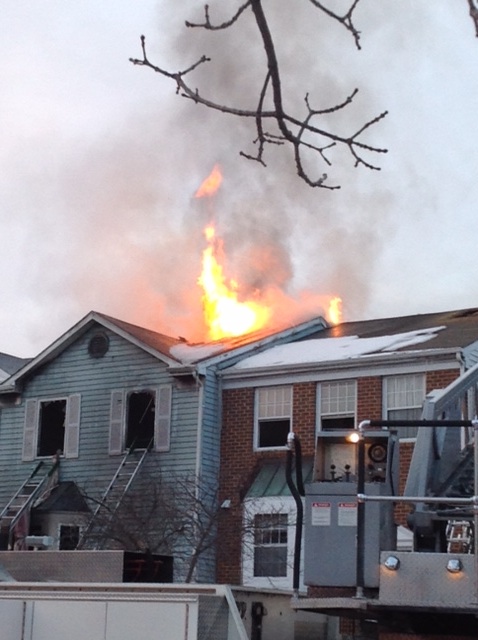 Townhouse Fire
UPDATED Montgomery County firefighters are investigating what sparked a two-alarm fire at 12100 Sweet Clover Drive in Silver Spring on Jan. 25.
The call was dispatched at 4:30 p.m. and additional resources were requested at 4:43 p.m., according to Spokesperson Beth Anne Nesselt of the Montgomery County Fire and Rescue Service.
"Firefighters arrived on the scene and reported significant fire conditions," said Nesselt. "Firefighters will be completing a secondary search of the residence as soon as the townhouse is determined to be structurally sound. At this time, we have transported one occupant (adult female) to a local hospital for check-up and evaluation and one firefighter has been transported with minor injuries."
At the height of firefighting operations, portions of Cherry Hill Road were closed to traffic, Nesselt said.
Firefighters from Prince George's Fire Department also responded to the scene. Nesselt said some residents have been displaced because of the blaze.
Damage is estimated at approximately $375,000. The cause of the fire remains under investigation.
Sweet Clover Dr. Fire: remains under investigation. Damage est: $250k structure/$75K contents. 2 adjacent THs each suffered $25k damages.

— Scott Graham (@MCFirePIO) January 26, 2014
#PGFD has multiple units to Mutual Aide to Montgomery County – 2ND Alarm Townhouse fire in 12100 block of Sweet Clover in Burtonsville area

— Mark Brady (@PGFDPIO) January 25, 2014
Additional image of townhouse fire in Montgomery County. That's Calverton PGFD 841 working pic.twitter.com/SXo8iKXUre

— Mark Brady (@PGFDPIO) January 25, 2014