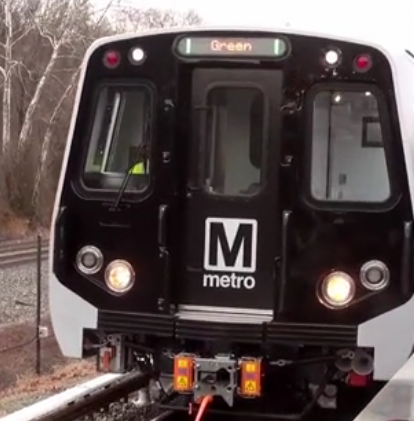 Transit Guide for 4th of July Weekend
Metro is the fastest way to get to July 4 festivities on the National Mall or any of the other great events around the National Capital Region. Here is an overview of rail and bus service on the holiday, as well as some important travel tips for riders:
Hours & Service
Metrorail: Open 7 a.m. until 3 a.m. Trains will run on a Saturday schedule until about 2 p.m., and then gradually ramp up to near rush-hour service levels before and after the fireworks. Parking will be free at all Metro-operated facilities. Rush+ will not be in effect. Due to large crowds, bicycles and large coolers are not permitted.
Metrobus: Saturday schedule. Expect detours around the National Mall.
MetroAccess: Regular service hours. Subscription trips are cancelled. Please ensure all July 4 reservations are booked before 4:30 p.m. on July 3.
Customer Service: Open 6 a.m. until 8:30 p.m. by calling 202.637.7000; Lost & Found will be closed.
Traveling to the National Mall
Riders traveling to the fireworks on the National Mall are encouraged to travel to a station on the same line as their starting point.
The following is a list of suggested stations:
Foggy Bottom for Orange or Blue lines
Metro Center for Red, Orange or Blue lines
Archives for Yellow or Green lines
Gallery Place for Red, Yellow or Green lines
Judiciary Square for Red Line
Union Station for Red Line
L'Enfant Plaza for Orange, Blue, Yellow or Green lines
Capitol South for Orange or Blue lines
Federal Center SW for Orange or Blue lines
Arlington Cemetery for Blue Line
Riders are encouraged to use stations other than Smithsonian or Federal Triangle, which often see the heaviest ridership for National Mall events. Smithsonian Station will be open throughout the day, but the Mall-side entance will become "entry-only" at the conclusion of the fireworks display.
Fare Information
Off-peak fares will be in effect all day.
Each passenger must have his or her own fare card, SmarTrip card or One-Day Pass.
To avoid potentially long lines at fare vending machines following the fireworks, all Metro riders are encouraged to purchase either a One-Day Pass ($14.50) or ensure that they have enough fare value on their SmarTrip card or paper farecard to complete their entire round trip. By purchasing a One-Day Pass for $14.50, a rider can take unlimited trips on Metrorail throughout the day.
To determine your fare, use the Trip Planner and use July 4 as your travel date. (Note: New Metro fares take effect Sunday, June 29. Using July 4 as your travel date will return the correct new fare.) Remember to load your card with twice this amount for a round trip. If you use a paper fare card, you must add $1 to the fare of each trip ($2 per round trip).
Important Travel Tips

Travel light. Customers are discouraged from bringing large coolers or other bulky items aboard trains.
Avoid using Federal Triangle or Smithsonian stations, if possible. Instead, consider using other stations within walking distance of the National Mall. After the fireworks, return to the same station.
Plan your trip to avoid transferring between rail lines at Metro Center, Gallery Place or L'Enfant Plaza. All rail lines provide service within walking distance of the National Mall.
As a reminder, smoking, eating and drinking are prohibited within Metrorail stations or aboard trains.
If traveling with a stroller, use the elevator, not the escalators.
Always stand back from the platform edge for your safety.
Do not hold the train doors. They do not operate like elevator doors and will not automatically reopen.
When boarding the train, step all the way into the car to make room for passengers boarding behind you.
On Metrorail, it is customary for riders to stand to the right while using escalators.
Safety and Security
There are no specific or credible threats to the Metro system related to this event.
Metro Transit Police will be visible throughout the system to ensure the customer safety and security.
Passengers are encouraged to report any suspicious behavior, unusual activity or unattended items to any uniformed Metro employee or police officer, by calling Metro Transit Police at 202.962.2121 or sending a text to MyMTPD (696873).
As a reminder, any bags or packages brought onto the Metrorail system may be subject to random, non-invasive screening by Metro Transit Police.