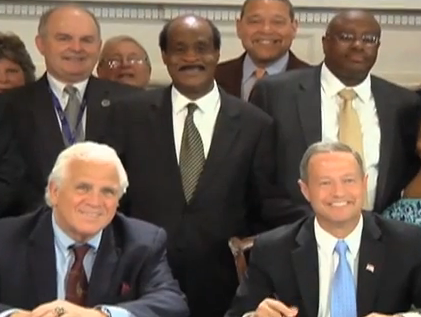 Transportation Funding Act Signed (Video)
Montgomery County Executive Isiah Leggett May 16 joined Maryland Governor Martin O'Malley, Senate President Thomas V. Mike Miller, Jr. and Speaker of the House Michael E. Busch at the bill signing for the Transportation Infrastructure Investment Act of 2013. Leggett has been an outspoken advocate for an increase in transportation funding revenues.
"The Washington region has the dubious distinction of being rated number one in the nation as having the worst traffic congestion and that is why Montgomery County's number one priority for more than 10 years has been to obtain more transportation funding," said Mr. Leggett. "For six years, I have strongly advocated for an increase in the state's gasoline tax, which hasn't risen since 1992 when George Bush Sr. was President. Since then, I have testified at every hearing on this issue and have been relentless in its support."
County Cable Montgomery has the report:

Visit our PEG partner County Cable Montgomery to view more of its local programming.