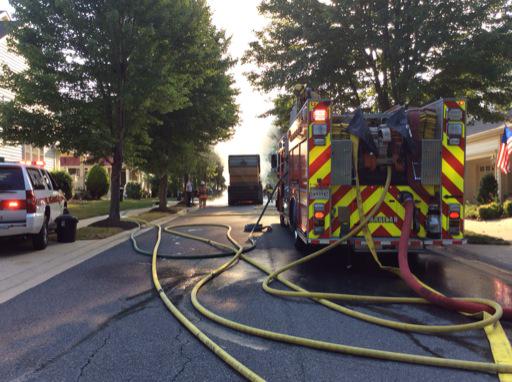 Trash Truck Fire in Lakelands Ridge Area of Gaithersburg (PHOTOS)
It was a messy morning in the Lakelands Ridge community of Gaithersburg.
That's where a trash truck caught on fire while on its route off High Gables Drive at Shadow Glen Mews and Shadow Glen Court.
Montgomery County Fire and Rescue Services Spokesperson Pete Piringer said the fire started in the cab area of the truck.
As firefighters worked to extinguish the blaze, he said local streets in the neighborhood were closed to traffic.
According to Piringer, the fire department's hazardous materials unit was also called to the scene to clean up a diesel and oil spill from the truck. He said the county's Department of Environmental Protection was also responding to assist in the cleanup.
There were no injuries.
#mcfrs on scene – MoCo Dept of Environmental Protection responding to assist w/ oil/diesel clean up on Shadow Glen Ct pic.twitter.com/m3aH0ovaPr

— Pete Piringer (@mcfrsPIO) September 1, 2015
Shadow Glen Ct & High Gables Dr, Gburg/Lakelands, trash truck on fire

— Pete Piringer (@mcfrsPIO) September 1, 2015
Hey @mcfrsPIO fire across from the Kentlands in Gaithersburg pic.twitter.com/Nzk0kHXshh

— Craig Rice (@RicePolitics) September 1, 2015