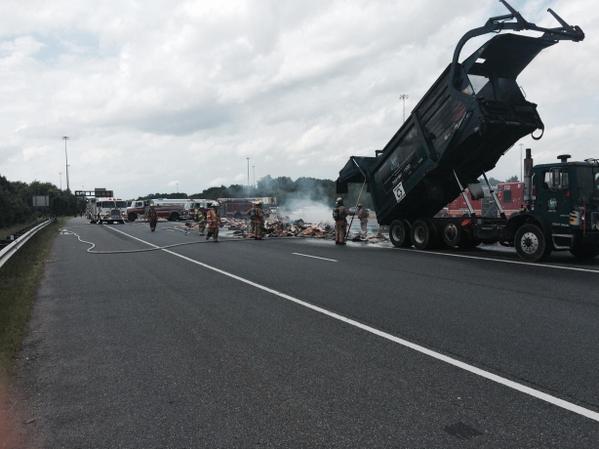 Trash Truck Fire, Traffic Slowed on I-270 Southbound in Gaithersburg (PHOTOS)
A trash truck fire is snarling traffic along the southbound lanes of I-270 just north of I-370 in Gaithersburg.
Fire and Rescue Spokesperson Pete Piringer said firefighters have applied foam to the fire but the trash load is now in the highway.
Commuters are advised to expect delays and to seek an alternate route.
Traffic Advisory – SB I270 near I370 Right lanes BLOCKED (cleanup); 2 LEFT LANES OPEN; NB I270 ALL LANES OPEN & Slow pic.twitter.com/QfOMhsGZyt

— Pete Piringer (@mcfrsPIO) June 18, 2015
Update – SB I270, all lanes blocked, foam applied, bulk trash fire has knocked down trash load dumped onto roadway pic.twitter.com/YgMbFJywi8

— Pete Piringer (@mcfrsPIO) June 18, 2015
Update – SB I270 – thunder & lightning in area, all lanes BLOCKED, FFs still working pic.twitter.com/t1nm2nZcaS

— Pete Piringer (@mcfrsPIO) June 18, 2015
PHOTOS | MCFRS