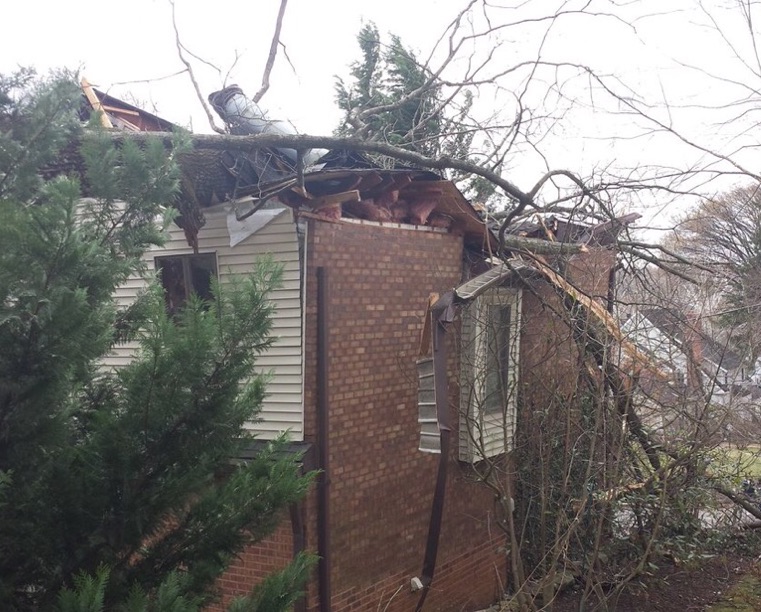 Trees Down Throughout Montgomery, Crashing into Homes, Smashing Cars
Councilmember Nancy Floreen was driving down Beach Drive when a tree fell and hit a Park Police vehicle, she said.
The vehicle then exploded.
According to a tweet from Pete Piringer, spokesman for the Montgomery County Fire and Rescue Service, the tree brought down live electrical wires with it.
"People might be thinking that it's not that bad. But it's really that bad," Floreen said.
She said the event showed how unpredictable things are in this windstorm. Dulles International Airport reported a peak gust of 71 mph, according to the National Weather Service.
Piringer's Twitter feed has listed a number of downed trees throughout the county.
(~1030a) Beach Drive and Knowles Ave., Kensington, tree fell also bringing 'live' wires down onto car, resulting in car catching on fire, EMS evaluated 1 minor injury, road closed/blocked pic.twitter.com/fMxcQYS2NY

— Pete Piringer (@mcfrsPIO) March 2, 2018
Traffic Advisory – Burning Tree Road BLOCKED between Greentree Road & Bradley Boulevard, wires down, multiple trees smoking https://t.co/WLef8BFe2Z

— Pete Piringer (@mcfrsPIO) March 2, 2018
7200blk Holly Ave., Near Dogwood Avenue, Takoma Park, tree on house

— Pete Piringer (@mcfrsPIO) March 2, 2018
11700blk Game Preserve Rd., near Clopper Road, tree down, wires down, road blocked

— Pete Piringer (@mcfrsPIO) March 2, 2018
1792 East West Highway, in area of Rosemary Hills Drive, tree on house

— Pete Piringer (@mcfrsPIO) March 2, 2018
18700blk Ginger Court, Germantown, off Cinnamon Dr., tree on house

— Pete Piringer (@mcfrsPIO) March 2, 2018
11100blk Troy Rd. off Schuylkill Rd., Rockville, tree down on car w/ wires down, road blocked

— Pete Piringer (@mcfrsPIO) March 2, 2018
Update – Barr Rd, significant damage, unoccupied house, no injuries pic.twitter.com/VhDRsAq0xP

— Pete Piringer (@mcfrsPIO) March 2, 2018
6633 Lybrook Court, Bethesda, tree own house

— Pete Piringer (@mcfrsPIO) March 2, 2018
10003 Holmhurst Rd., Bethesda, off of Lone Oak Drive, tree on occupied house

— Pete Piringer (@mcfrsPIO) March 2, 2018
20505 Ivory Pass Court, Gaithersburg, tree on house

— Pete Piringer (@mcfrsPIO) March 2, 2018
Wilson Lane & Old Georgetown Road, tree on house

— Pete Piringer (@mcfrsPIO) March 2, 2018
535 West Diamond Ave., Gaithersburg, tree on house w/ occupants on injured but unable to get out

— Pete Piringer (@mcfrsPIO) March 2, 2018
434 W. Deer Park Rd., Gaithersburg, tree on house

— Pete Piringer (@mcfrsPIO) March 2, 2018
Stirling Road and Greenock Rd., Silver Spring, tree on house

— Pete Piringer (@mcfrsPIO) March 2, 2018