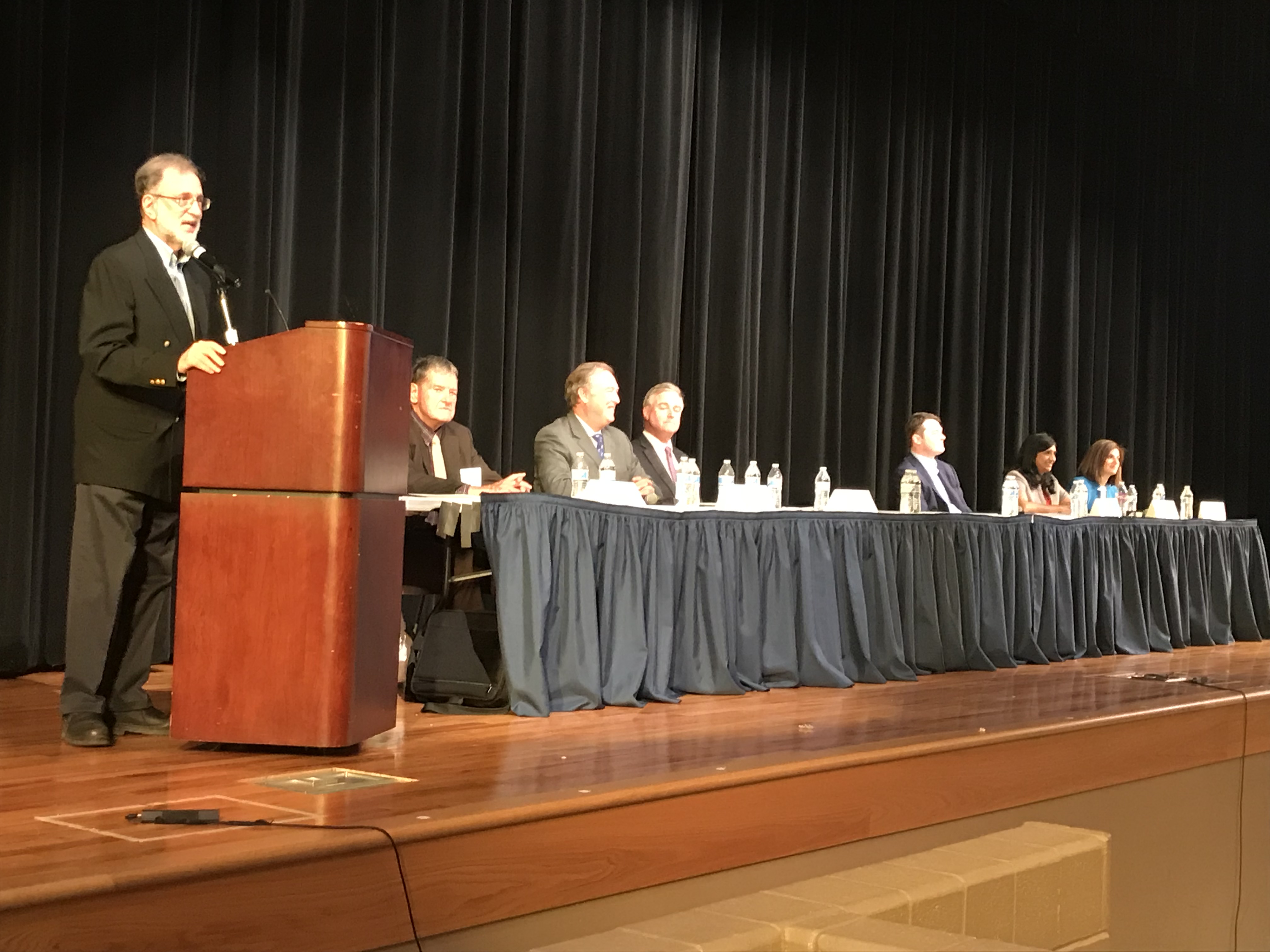 Trone Targeted at 6th District Candidate Forum
Seven of the eight Democrats who want to succeed Rep. John Delaney answered questions Thursday night ranging from nuclear war to Israel, from transportation to marijuana.
But the main target wasn't the Republicans that Democrats hope to defeat to win back Congress, but one of their own. Millionaire David Trone, who is making his second run for a seat in Congress, was the subject of audience questions and a few barbs from the other candidates on the dais.
Trone lives in the 8th District, but the law allows a resident in the state to run for any of Maryland's eight congressional seats. The first question came from an audience member who asked why anyone should vote for someone who doesn't live in the district.
Trone responded that he was the victim of gerrymandering, which moved the 6th District line across River Road.
"He just ran in 2016 in the 8th District," Del. Aruna Miller of Darnestown said, "and so now he's coming over in this district that he doesn't live in." If he doesn't believe in gerrymandering, he should run in his own district, Miller said.
"And if you do believe in it, run in every district you want to," she said.
Trone rebutted that the 6th District would vote for the best person, "not a ZIP code."
A later question zeroed in on his lack of legislative experience. An audience member asked if Trone would hire a store manager who had no experience in retail.
Trone replied he hired best athlete or the smartest person in the room. "If you're smart and have a great attitude, they will always be successful," he said. "Absolutely, this is a job my experience, my intellect has prepared me to do."  
The forum, inside the Gaithersburg High School auditorium, drew about 150 people. All but one of the questions came from audience members. And three candidates could volunteer to answer any given question.
One questioner asked the candidates what they would do to bring the country together. Here are the answers:
On marijuana legalization, aerospace professional Chris Hearsey said he favored legalization. His father died of an opioid overdose and believes marijuana might have helped ease his pain.
Dr. Nadia Hashimi, a pediatrician who lives in Potomac, said she believed marijuana could be used to treat pain. She said she had prescribed a marijuana formulation to a young girl who could not be treated by standard medical practices.
Other points from the forum:
• Andrew Duck of Brunswick said the country must overturn the Citizens United ruling, in which the Supreme Court ruled corporations, like a person, had free speech rights from the First Amendment and could not be limited on campaign contributions. "I won't believe a corporation is a person until Texas executes one," Duck said.
• George English of Silver Spring praised President Reagan's strategic arms limitation talks and said the country doesn't need 10 aircraft carrier battle groups.
• State Sen. Roger Manno said the House needs 23 seats to stop President Donald Trump; he said he wanted them to be progressives who support single-payer health care.