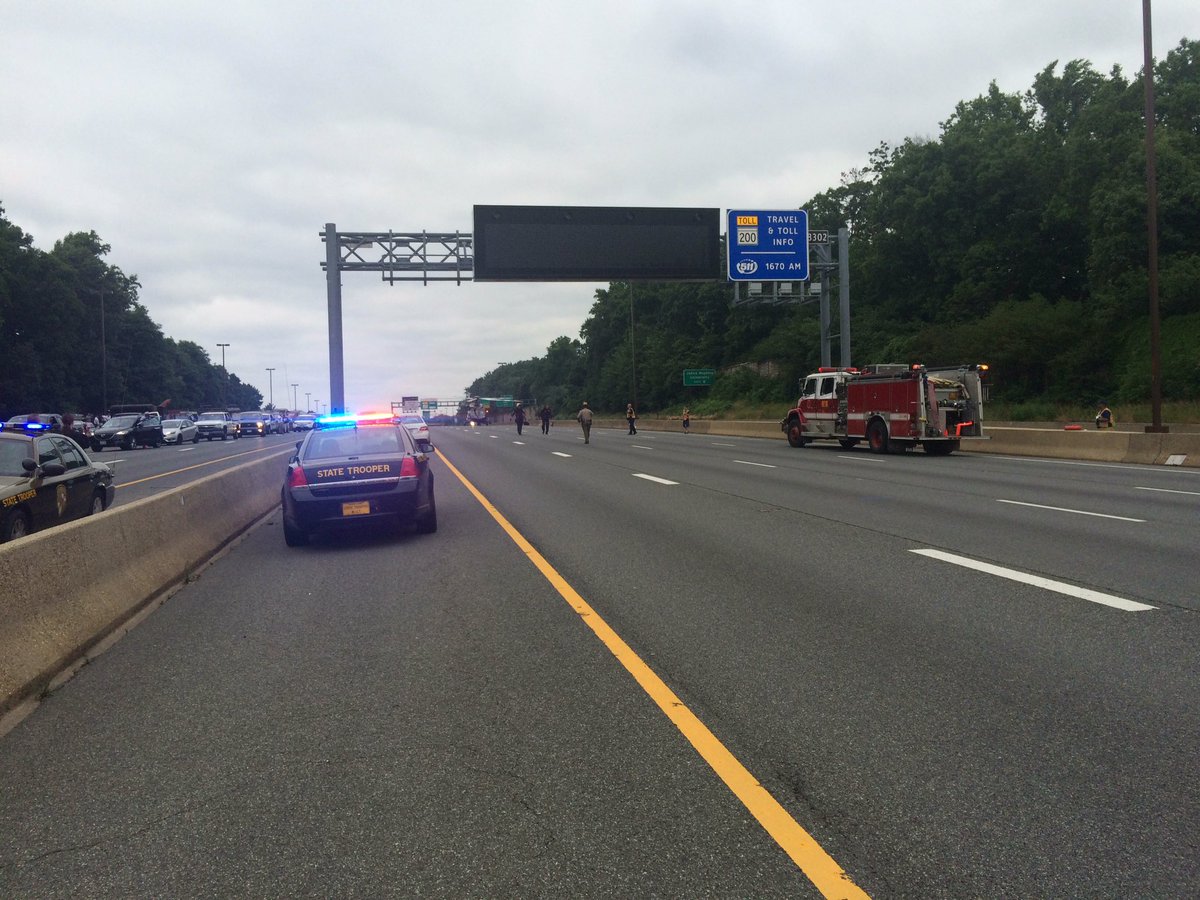 Trooper Injured in Collision on I-270 on Saturday Morning (PHOTOS & VIDEO)
A Maryland State Police Department trooper was injured on Saturday morning during a traffic stop on northbound I-270 south of Shady Grove Road.
Police said the trooper had to be extricated from the vehicle and was airlifted to the University of Maryland Shock Trauma in Baltimore.
The collision happened shortly before 7 a.m. during a traffic stop on the left shoulder in the northbound lanes of I-270 just south of Shady Grove Road in Gaithersburg.
According to information released by the Maryland State Police Department, the trooper had pulled over an Acura passenger vehicle when a tan Lexus SUV struck the trooper's vehicle in the rear causing it to strike the Acura in the rear. According to police, the trooper was trapped inside the vehicle, and was freed by firefighters.  Police said the driver of the Lexus was also injured in the collision and transported to Suburban Hospital.
The driver of the Acura and three passengers were not seriously injured, police said. They were transported to Shady Grove Hospital as a precaution.
During the investigation at the scene, the main lanes of northbound I-270 were shut down near Maryland 28 and interstate traffic was diverted to the local lanes. All lanes have since reopened.
According to police, the collision remains under investigation and alcohol is believed to be a contributing factor.  No charges have been filed to date.
TRAFFIC ADVISORY – I270 btwn Rt28 & Shady Grove Rd – CLOSED/BLOCKED, possibly in BOTH DIRECTIONS, collision NB Main Lanes

— Pete Piringer (@mcfrsPIO) June 25, 2016
Update – I270 @MDSP Trooper vehicle struck on shoulder, Trooper trapped & has been extricated, Pri2 NLT injuries pic.twitter.com/Xtba21jqOo

— Pete Piringer (@mcfrsPIO) June 25, 2016
More…I270 (main) NB North of Rt28, 3 cars involved, total 6 patients transported, incl 2 adult Pri2 traumas, NLT pic.twitter.com/ru5oefu19H

— Pete Piringer (@mcfrsPIO) June 25, 2016
Traffic Update – NB I270 local lanes OPEN, Main Lanes CLOSED; SB I270 ALL Lanes OPEN btwn Rt28 & Shady Grove Rd pic.twitter.com/knhSUYYHot

— Pete Piringer (@mcfrsPIO) June 25, 2016