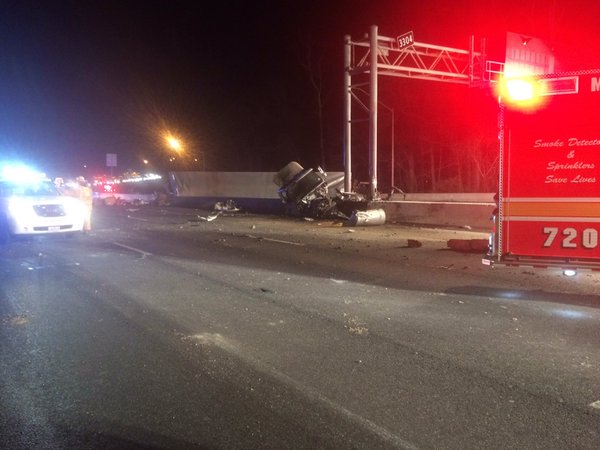 UPDATED: Fatal Truck Accident Closes Beltway (Photos & Video)
UPDATED The driver of a tractor trailer was killed in a collision on the Beltway that occurred on westbound Interstate 495 east of Connecticut Avenue on Friday morning.
The overturned truck closed both the inner loop and the outer loop lanes of the Beltway for some time during the morning rush hour.
Fire and Rescue Services Spokesperson Pete Piringer said paramedics transported the driver, who was ejected from the vehicle and unconscious, to an area hospital with trauma injuries. A Maryland State Police Department news release identified the driver as 47-year-old Dennis Frampton of Halethorpe. Police said he died from his injuries at Suburban Hospital.
Multiple pieces of the concrete barrier and debris from the accident were scattered across lanes of both the inner and outer loops of Interstate 495 in the area of Connecticut Avenue. Police said the fuel tank of the tractor trailer ruptured and diesel fuel leaked onto the interstate.  The Maryland Department of Environment and the Montgomery County fire division's hazardous materials crews were notified about the fuel spill and cleanup.
The collision resulted in major traffic delays. All westbound lanes of I-495 were blocked at the scene of the collision and traffic was diverted onto Georgia Avenue. The eastbound lanes of I-495 were partially blocked. Traffic was slowed for hours because of the debris cleanup, fuel spill cleanup and the removal of the tractor trailer and its cargo from the scene.
The accident happened at approximately 4:45 a.m. on Friday morning. The Beltway reopened to traffic in both directions shortly after 10:30 a.m., according to a message from Alert Montgomery.
Anyone with information about this incident is asked to contact the Maryland State Police Rockville Barrack.
Capital Beltway I495 near Rt185/Rt355-investigation & cleanup continues OL ALL LANES BLOCKED; IL 2 right lanes OPEN pic.twitter.com/CCDqhnti8S

— Pete Piringer (@mcfrsPIO) February 19, 2016
TRAFFIC ADVISORY – BELTWAY BOTH IL & OL ALL LANES CLOSED/BLOCKED Rt355/Conn AV; @MDSP Investigation, @MDSHA cleanup pic.twitter.com/qmoUTGbcdj

— MontgomeryCo(MD)Fire (@mcfrs) February 19, 2016
Update – OL I495 ALL LANES BLOCKED near Connecticut Ave, overturned tractor trailer & fuel spill, IL 1 lanes gets by pic.twitter.com/TnvA38JGSY

— Pete Piringer (@mcfrsPIO) February 19, 2016
(445a) Beltway I495 btwn Connecticut Ave & Rville Pike overturned TT, EMS transported 1 adult male, trauma pic.twitter.com/vwcSzK2Tur

— Pete Piringer (@mcfrsPIO) February 19, 2016
Alert – Montgomery Co. – I-495 Inner and Outer Loops are closed at MD 185 due to TT crash. #mdtraffic #dctraffic

— MD State Highway Adm (@MDSHA) February 19, 2016