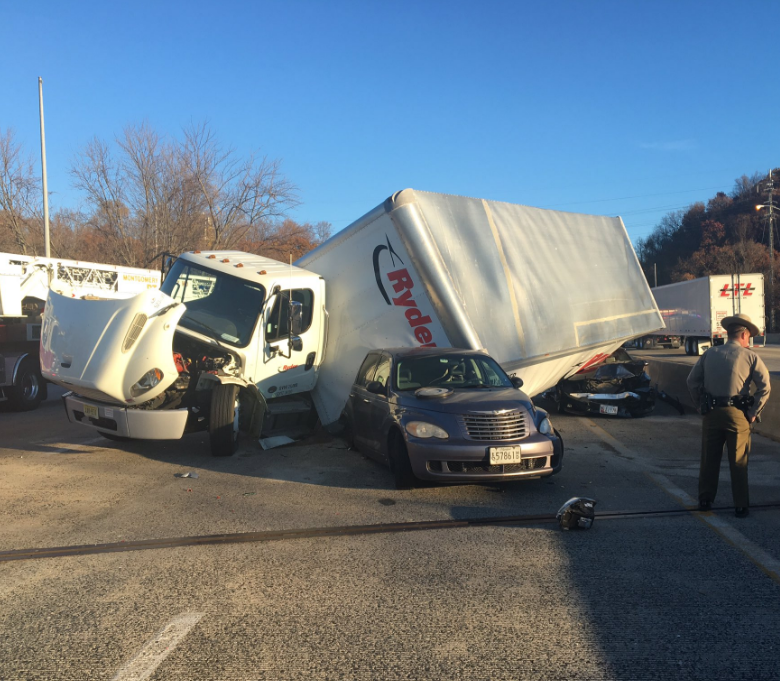 UPDATED: Truck Collision on Southbound I-495 Causes Delays (PHOTOS)
UPDATE 12:30 p.m. Maryland State Police report that a Freightliner box truck struck another box truck early this morning near the American Legion Bridge.
Police said the 2014 Freightliner truck overturned and landed on a 2015 BMW 428I, driven by a Rockville resident, as well as a 2007 Chrysler PT Cruiser, which was driven by a Silver Spring resident.
According to police, the Chrysler PT Cruiser traveled forward and stuck the read of a 2014 Chevrolet Cruz.
Police have charged the driver of the 2014 Freightliner with negligent driving, as well as operating on a suspended license, and several other related charges.
Southbound I-495 was shutdown for an extended period of time while authorities investigated the scene and hazmat units assisted with fuel removal and clean-up.
All lanes have since been re-opened.
ORIGINAL POST 10:02 a.m. A multi-vehicle collision caused major delays on southbound I-495  near the American Legion Bridge Wednesday morning, according to Fire and Rescue spokesperson Pete Piringer.
The collision happened around 7:40 a.m. when a truck fell onto a car, Piringer said.  A third vehicle and second truck was also involved in the crash, he said. Two people suffered non-life-threatening injuries, Piringer said.
Piringer also reported a fuel spill at the collision site. Some lanes still remained blocked as crews continue clean-up.
Update – OL I495 – MSP & SHA crews OS w/ MCFRS – cleanup of crash site continues, some lanes still blocked & some get by pic.twitter.com/Jj2GUfDMNh

— Pete Piringer (@mcfrsPIO) November 23, 2016
wild scene on the outer loop in #Potomac, inner loop is rubbernecking #vatraffic delays from #TYSONS! #breakingnews pic.twitter.com/kE9TGcrtpD

— Brad Freitas (@NewsChopperBrad) November 23, 2016
Traffic Advisory – OL I495 before American Legion Bridge (headed MD to Va) ALL LANES CLOSED, collision involving trucks & cars w/ fuel spil pic.twitter.com/fWAO9IU88a

— Pete Piringer (@mcfrsPIO) November 23, 2016
Update – OL I495 Near American Legion Bridge, multi-vehicle collision, 2 NLT injuries 1 TRAFFIC – 1 OL I495 lane now open pic.twitter.com/KiK4hUKFAo

— Pete Piringer (@mcfrsPIO) November 23, 2016