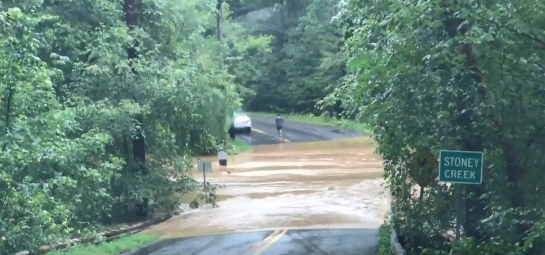 Tuesday Night Storms Leave Damage Throughout the County
Severe thunderstorms caused flooded roadways, downed wires and significant damage throughout parts of the county on Tuesday evening.
Stoney Creek Road off River Road in Potomac overflowed causing potential damage to the bridge and road surface, officials say.
@mcfrsPIO #TurnAroundDontDrown!! pic.twitter.com/8BHvmCXiFf

— Scott Glazer (@radioinstl) August 6, 2019
Update – Bradley Boulevard near Kendale Rd, Single vehicle in Highwater, occupants self-rescued, @MCFRS_EMIHS evaluated & no injury, road closed, water appears to be receding pic.twitter.com/sUz2t7HRIG

— Pete Piringer (@mcfrsPIO) August 7, 2019
A tree also fell onto an unoccupied house on the 3200 block of Leland Street in Chevy Chase on Tuesday night. Although there were no injuries, officials say the fallen tree caused downed wires throughout the Chevy Chase neighborhood. About 60 homes were left without power until it was later restored. Montgomery County Fire and Rescue Service advises residents not to attempt to move branches for fear of electric shock.
Tree into unoccupied house – 3200blk Leland St, Chevy Chase, tree through the house (property damage) & wires down throughout Chevy Chase neighborhood, No injuries reported pic.twitter.com/FaFMJRNga2

— Pete Piringer (@mcfrsPIO) August 7, 2019
On Wednesday, officials say there's potential for severe storms again in the afternoon across much of the Eastern US, including Montgomery County.
Potential for severe storms this afternoon and evening across much of the Eastern US. Damaging winds and torrential rainfall are the main threats. Severe weather threat shifts west to eastern Great Lakes/upper Ohio Valley for Thursday. pic.twitter.com/yurQcSlmyA

— NWS Eastern Region (@NWSEastern) August 7, 2019
Likely timing of greatest risk of severe storms @MontgomeryCoMD 2p-8p https://t.co/Bj5ibjNufl

— Pete Piringer (@mcfrsPIO) August 7, 2019