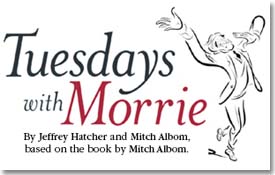 Tuesdays With Morrie at the Arts Barn
The Arts Barn presents Paul Morella and Craig Miller in the Washington area premiere of "Tuesdays with Morrie" from March 8 through 24, with performances on Fridays and Saturdays at 8 p.m. and Sundays at 2 p.m. Admission is $22 – $25.
The drama is adapted by Jeffrey Hatcher and Mitch Albom from the best selling book by Mitch Albom. Sixteen years after graduation from college, Albom learns that his former professor Morrie Schwartz is battling Lou Gehrig's disease. Mitch is reunited with Morrie, and what starts as a simple visit turns into a weekly pilgrimage and a last class in the meaning of life.