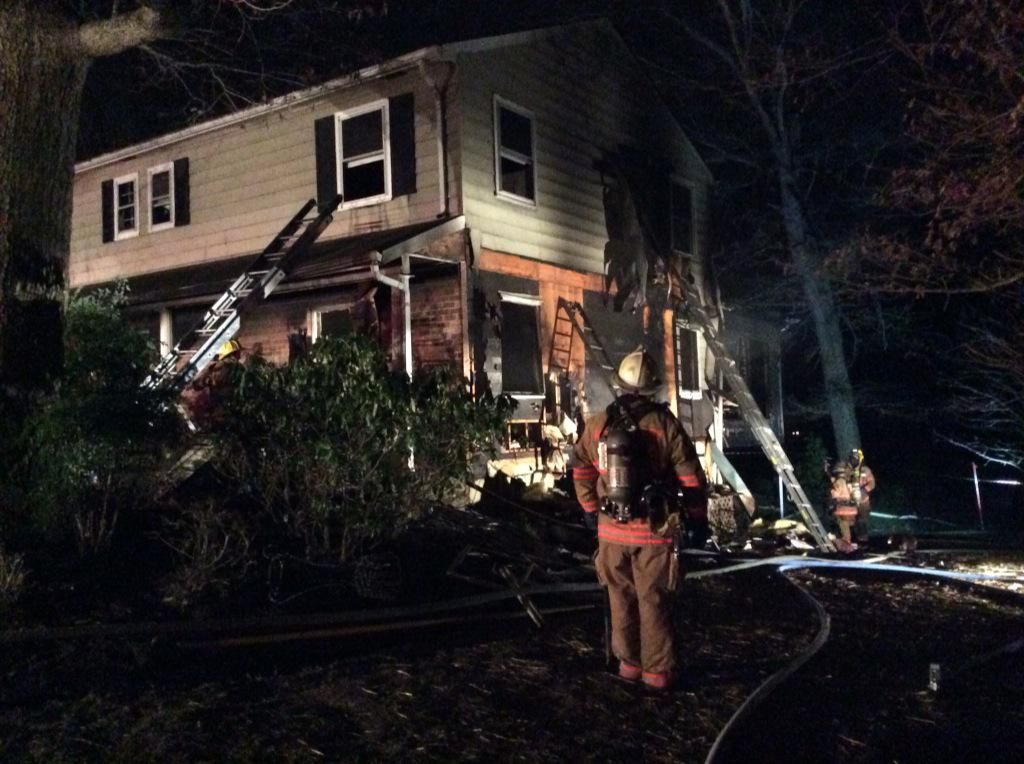 Two Alarm House Fire Causes $800,000 in Damage (Audio)
Over 75 firefighters responded to a two-alarm house fire that displaced a family at 2225 Kingshouse Road in Burtonsville early today.
Fire and Rescue Services Spokesperson Pete Piringer said the massive blaze ignited overnight and originated in the basement.
He said occupants were alerted to the fire by a smoke alarm.
A firefighter was injured at this scene when he fell through the floor, Piringer said.
Piringer estimates damage at $800,000.
On his Twitter account, Piringer reported that a cat was also missing from the home. Piringer released the audio recording of fire and rescue mayday call which can be found here at 5 minutes into 52-minute recording.
According to Piringer, there is also a high pressure water main break down the street from the blaze. He said Peach Orchard Road was closed between Kingshouse Road and Seibel Road. Washington Suburban Sanitary Commission (WSSC) is on the scene.
Traffic Advisory – Water Main Break CLOSES Peach Orchard Rd between Kings House Rd & Seibel Rd – WSSC on scene pic.twitter.com/DTAKq3h7Ir

— Pete Piringer (@mcfrsPIO) December 22, 2014
(1a) 2225 Kingshouse Rd, off Peach Orchard Rd, 1 family displaced, 1 cat missing, $800K damage, Smoke Alarm activated pic.twitter.com/hc26e6uU4S

— Pete Piringer (@mcfrsPIO) December 22, 2014
U\D Kingshouse Rd, smoke alarms alerted occupants to fire in bsmt, they got out uninjured, 1 cat unaccounted/ missing pic.twitter.com/08AjR7nCRM

— Pete Piringer (@mcfrsPIO) December 22, 2014
U/D – Kingshouse Rd; Area of Origin, basement; Cause, accidental, associated w/ wood stove; Damage, >$800K pic.twitter.com/ssjW5UQjQE

— Pete Piringer (@mcfrsPIO) December 22, 2014
U/D – Kingshouse Rd, Peach Orchard, MoCo, PGCo & HowCo FFs & units on scene, heavy fire damage, 1 family displaced pic.twitter.com/nCU6dTdn7b

— Pete Piringer (@mcfrsPIO) December 22, 2014
Kingshouse Rd Temps in 20s, icy conditions, portion of Peach Orchard Rd CLOSED, Kingshouse Rd BLOCKED by FD activity pic.twitter.com/LpWk4oA3Aj

— Pete Piringer (@mcfrsPIO) December 22, 2014
Kingshouse Rd, 75FFs on scene, fire under control, occupants out & uninjured, FFs working on hotspots & overhaul ops pic.twitter.com/a4Gtp2xzEu

— Pete Piringer (@mcfrsPIO) December 22, 2014
Kingshouse Rd, fire under control, FFs working on hotspots checking extension, and performing overhaul, occupants got out w/ no injuries

— Pete Piringer (@mcfrsPIO) December 22, 2014
U\D Kingshouse Rd – stubborn basement fire, heavy damage to house, >75 FFs on scene, 1 FF inj, treated & released

— Pete Piringer (@mcfrsPIO) December 22, 2014
(1a) 2-Alarm house fire 2225 Kingshouse Rd, Burtonsville, heavy fire conditions,m1 FF inj (fell thru floor) , FFs ok pic.twitter.com/7prEMyjbJC

— Pete Piringer (@mcfrsPIO) December 22, 2014