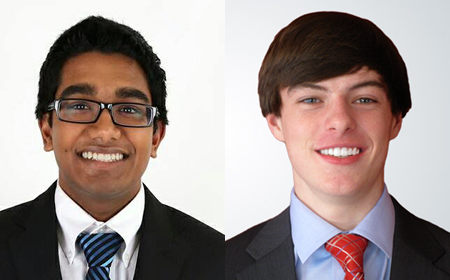 Two Candidates Vie for Spot as Student Member of MCPS School Board (VIDEOS)
Two Montgomery County Public Schools students are lobbying for votes to become the next student member of the Board of Education, a position that could become more powerful come July.
Rachit Agarwal, a junior from Richard Montgomery and Eric Guerci, a sophomore from Bethesda Chevy Chase High, are both on the ballot for the job. The voting takes place April 29.
This could be the first Montgomery County SMOB who has full voting rights on the board, including a vote at the table on the school system's budget decisions.
A bill is making its way through the Maryland General Assembly that if passed would extend full voting rights to the student member of the board. Technically, the bill repeals certain voting rights exceptions for the student member of the Montgomery County Board of Education so that the student member is required to vote on matters relating to capital and operating budgets; school closings, reopenings, and boundaries; and collective bargaining. The bill also authorizes the student member to attend executive sessions that relate to collective bargaining, according to a the bill's fiscal and policy note. The bill takes effect July 1, 2015.
The bill is sponsored by the Montgomery County Delegation to the General Assembly.
"We are pretty confident next year's SMOB will have a vote on the budget," said Katie Rossini, Student Leadership Coordinator for MCPS.
According to Rossini that would make the Montgomery County only the second SMOB in the country to have full voting rights. Anne Arundel Public Schools'  SMOB is the only other SMOB in the country to have full voting rights "that we know of," according to a spokeswoman from the Anne Arundel school district.
To be eligible to be SMOB, a student must be enrolled in an MCPS school and live in the county, according to Rossini. Students can either nominate themselves or be nominated by another student.
The two students emerged from an initial field of six candidates for the position. A SMOB nominating convention of 274 delegates narrowed the field to three on March 11. Then after a question and answer period, the delegates filled out a preferential ballot casting a first and second choice.
Both Eric and Rachit prepared a video statement to promote their candidacy. Take a look:
Now, Eric and Rachit will prepare video speeches that will air in the high and middle school social studies classes. Students using an electronic voting system managed by VoteNet will select a winner.
Rossini said about 80,000 students are eligible to vote in the April election. Voting ends at 3 p.m. April 29 and results are expected by 5 p.m.