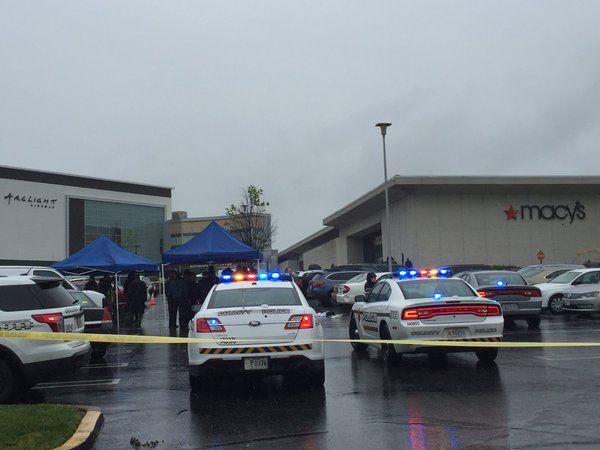 Two Killed, Two Injured in Shopping Center Shootings (PHOTOS)
UPDATED Several Montgomery County facilities and all schools were placed on lock down Friday following two separate shootings in Bethesda and Aspen Hill.
At approximately 11:15 a.m. on Friday, Montgomery County police officers responded to a shooting in the parking lot of Westfield Montgomery Mall. Police say a suspect shot three people in the parking lot of the mall and fled thereafter. One man died from his injuries at a local hospital, according to police. The other victims remain hospitalized.
In a separate incident, police say a woman was shot and killed in the parking lot of Giant Food in Aspen Hill.
Police have a suspect in custody.
Kamran Shabram witnessed the police response to the first shooting at Montgomery Mall.
"We heard kind of like a gun shot noise, there were like eight of them," Shabram said. "[When] I ran into the parking lot I saw three people just lying down on the ground and the officer was trying to help one of them."
MyMCMedia obtained an exclusive photo of the scene from Shabram. The photo shows police assisting a woman from the Montgomery Mall shooting.
During a news conference, Montgomery County Police Chief Thomas Manger said a suspect was under surveillance shortly after the Aspen Hill shooting.
Plain clothes officers took Eulalio Tordil into custody without incident at the Northgate Plaza shopping center located at 3901 Aspen Hill Road, police said.
Tordil is in custody at Montgomery County Police headquarters and is expected to be arraigned at 1 p.m. on Monday.
The investigation continues.
LIVE on #Periscope: Press Conference- Shootings https://t.co/uly3BaO5vF

— Montgomery Co Police (@mcpnews) May 6, 2016
Mall Shooting: 1 adult male victim is deceased. 2 other victims-1 adult male is critical, 1 adult female w/non-life-threatening injuries.

— Montgomery Co Police (@mcpnews) May 6, 2016
Aspen Hill shooting: 1 adult female victim is deceased.

— Montgomery Co Police (@mcpnews) May 6, 2016
Related: