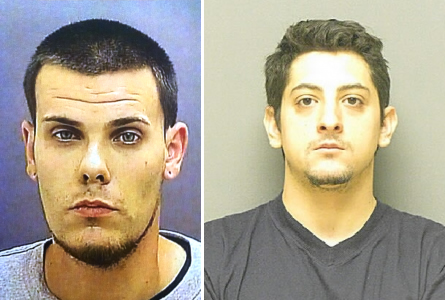 Two Men Arrested in Bethesda Home Invasion Robbery of Elderly Couple
Two men arrested for stealing from an elderly couple in Bethesda reportedly blamed their actions on the economy.
Robert Christopher Hartley, 30, of the 700 block of Heritage Lane in Bel Air, and Ioanis Gourgoulianos, 28, of the 2200 block of Edinburg Drive in Fallston, face home invasion and theft charges stemming from a Feb. 16 home invasion robbery in Bethesda.
According to police, at about 5:30 p.m. on Feb. 16, an 85-year-old couple were in the basement of their home in the 8800 block of Clewerwall Drive in Bethesda, when they heard a loud crash. The pair went upstairs to investigate and saw two men entering the home through a broken glass back door. The two men wore dark clothing and ski masks, police said. One suspect carried a baseball bat and the other suspect carried a small, blunt object.
The men ordered the elderly couple to sit on the couch in the living room, put their hands up and not to look at them. According to police, one of the suspects stated, "We are not going to hurt you. We respect you. It's just that the economy that sucks."
In less than ten minutes, the suspects took approximately $10,000 cash and rare silver coins from the home.
Police said the thieves knew where the cash and coins were in the home because Harley worked for a heating company that recently installed a new system in the home.
On Feb. 19, detectives arrested Hartley on the strength of an arrest warrant at his home and executed a search warrant. Investigators located silver coins stolen from the victims' home and also located the victims' Travelers checks. During questioning, police said Hartley provided a full confession. Gourgoulianos was arrested on Feb. 20 on the strength of an arrest warrant. Both suspects have been charged with crimes to include home invasion, first-degree assault, and theft.
The Department urges people to place valuables out of view and in a safe when having workers come into their home. Also, if possible, the Department encourages homeowners to be home or have someone trustworthy to be in the home to monitor the movements of workers.