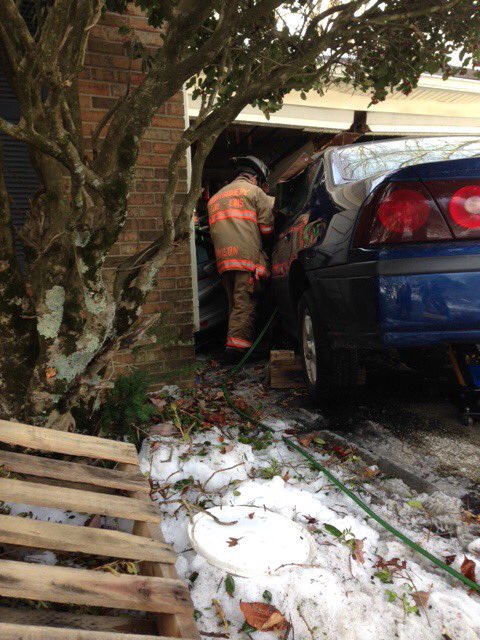 92-Year-Old Man Seriously Injured in Car Crash in Rockville (PHOTOS)
UPDATED Montgomery County police officers and fire and rescue crews responded to a collision on Tuesday afternoon where a car crashed into a vehicle and then into the garage of a house.
It happened at 2:30 p.m. in the 4300 block of Sunflower Drive in the Flower Valley neighborhood of Rockville, according to police.
Police said the preliminary investigation indicates that a blue, 2003 Chevy Impala was traveling westbound on Hannans Way when for reasons still under investigation, the vehicle accelerated and drove onto the driveway of a home in the 4300 block of Sunflower Drive. Police said the Impala struck an unoccupied vehicle in the driveway which forced both vehicles into the garage of the home.
Fire and Rescue Spokesperson Pete Piringer said the two occupants of the car were transported to a local hospital with serious injuries.
The driver of the Impala is being identified by police as 92-year-old Earl Robert Toense.
Anyone who witnessed this collision or has information about this collision is asked to call the Police Department's Collision Reconstruction Unit at 240.773.6620.
(230p) Hannans Way & Sunflower Dr, Flower Valley, car off roadway, up driveway & crash into garage, EMS evaluated 2 pic.twitter.com/UCWls7tPre

— Pete Piringer (@mcfrsPIO) February 2, 2016
4300blk Sunflower Dr, 2 occupants in car, crashed into house, Driver was trapped & extricated, 1 adult male Pri1 pic.twitter.com/rnSvToVdSp

— Pete Piringer (@mcfrsPIO) February 2, 2016
Update (230p) Sunflower Dr, EMS transported 2 adults, 1 male/1 female, both PRI2, serious (driver may have med cond) pic.twitter.com/O88iZnOFWi

— Pete Piringer (@mcfrsPIO) February 2, 2016