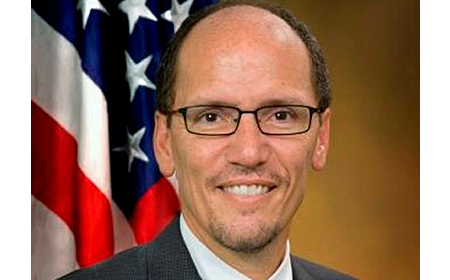 U.S. Secretaries of Labor and Commerce to Visit Montgomery College
U.S. Secretary of Labor Thomas Perez and U.S. Secretary of Commerce Penny Pritzker are scheduled to visit Montgomery College's Germantown campus Wednesday to talk about a $15 million federal grant to 14 community colleges in Maryland.

Government leaders converge on the Germantown Campus to discuss the Department of Labor's Trade Adjustment Assistance Community College and Career Training Grant . The visit will focus on how community colleges will use the grant to help prepare the workforce and close skills gaps for underrepresented populations including women, veterans and the unemployed, according to a release from the college. The visit will include a tour of the college's cybersecurity lab and will end with a roundtable discussion among college and industry leaders, students and elected officials.
Also expected are Lockheed Martin Chief Technology Officer Mahesh Kalva, Community College presidents and Montgomery County Director of Economic Development Steve Silverman.
A total of 14 community colleges in Maryland will use the $14,957,899 in funding to support job-driven training programs. Montgomery College received $5,371,743 of that amount to lead the consortium of colleges focused on training in the cyber-security economic sector, information technology, professional, scientific and technical and educational services industries, according to the release from the college.