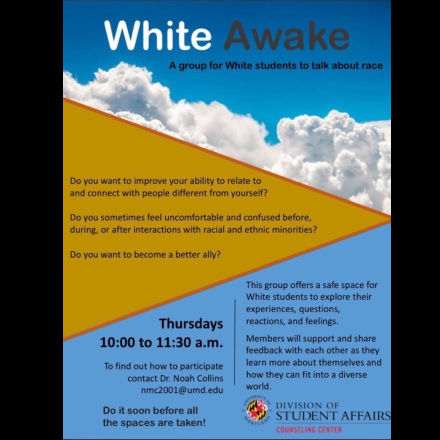 UMD Students Call Safe Space Group for White Students 'Insensitive'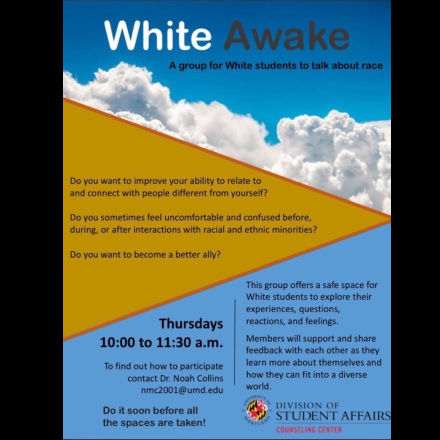 Following backlash from the community over the naming of an all white discussion group on race, the Division of Student Affairs Counseling Center at the University of Maryland has changed the name.
The "Anti-Racism and Ally Building Group," previously known as "White Awake," was renamed to better reflect the group's intention and values, according to a statement from university officials.
A change in name, however, does not change what some students call "insensitive" behavior from school leaders following a series of racially-motivated incidents on campus.
Just last year, 23-year-old Richard Collins, who was black, was visiting friends at the College Park campus where he was approached and stabbed by a former white student, Sean Urbanski.  He was charged with a hate crime and murder.
Collins was a 2nd Lieutenant for the U.S. Army and a Bowie State University student at the time of his murder. Prior to the incident involving Collins, a noose was found inside the University of Maryland Phi Kappa Tau chapter house on Fraternity Row.
"While I understand the need for a safe space to discuss hot button issues, especially regarding race relations, as it sets a comfortable climate to have honest and open discussion, I do not think the 'White Awake' group is progressive in any way," said Samira Konte, a senior at the College Park Campus.
University officials said in a statement that, "although it is our intent to promote anti-racism, we acknowledge that there are members of our community that may have felt harmed by the naming of this group."
The statement further reads:
"Our Counseling Center embraces multiculturalism as one of our key and most important values, as evidenced by its diverse staff, services and programs.
"The purpose of this effort is to promote anti-racism and becoming a better and more informed ally. Our Counseling Center acknowledges that we did not choose the right words in raising awareness about this research-based initiative, and how this group has been perceived is counter to the values of inclusiveness and diversity that we embody. Therefore, we are renaming the group to better reflect our intention and values."
As for students who disagree with the group,  said the best way to discuss racism is by a dialogue with those who face it everyday.
"The first step in bettering yourself as an ally is to become comfortable with being uncomfortable," said Konte. "This would entail welcoming input and engaging in open dialogue with minority groups in order to mutually share personal testimonies and experiences, and ultimately find solutions to live comfortably, inclusively and progressively in a multicultural environment."