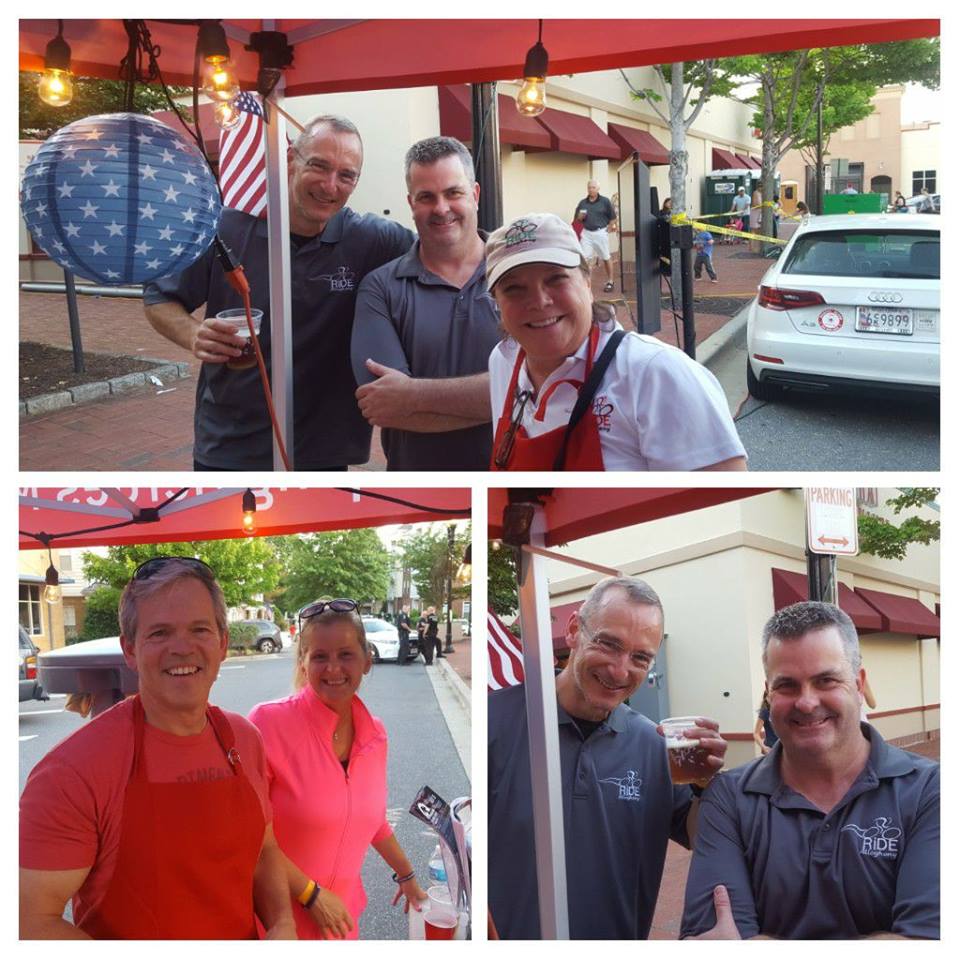 Under the Lights…
It was a beautiful evening, sipping on local craft brews from DC Brau and Flying Dog, in the spring sunshine, volunteering.
The Kentlands Under the Lights Community Dinner was held this past Saturday. The event gives Kentlands residents and businesses the opportunity to share delicious cooking, engage in conversation and connect as neighbors and friends.
As the Director of Events & Marketing for the Gaithersburg-Germantown Chamber (GGCC), I thought the event- now in its third year – was very well done. It was seriously like neighbors networking with neighbors. And who doesn't love good food and great networking.
The event, held in the Kentlands Market Square, affords attendees the opportunity to enjoy a variety of local cuisine, wine and beer; and enjoy some tunes. I was delighted to see GGCC Members – Not Your Average Joe's, Stiles Dentistry, Operation Second Chance and Winkler Automotive Service Center participating in the event.
Tables and chairs lined the square under a beautiful twinkling blanket of lights to set the mood just right for an evening of al fresco drinks, dining and entertainment. It was simply lovely.
There are three parts of the evening I enjoyed the most:
1. Lots of twinkle lights. The lights created a magical ambiance. It was as if there were a million twinkling stars shining over you and me. See I believe twinkle lights represent joy. Joy comes to us in moments. Sometimes we miss the joy because we are chasing extraordinary moments or we're afraid of the dark, so we don't enjoy the light. But on Saturday, June 17, everyone enjoyed the light and the Kentlands Square was full of joy, hope, inspiration, dreams and extra sparkle.
2. The Sweet Farm. Like most folks, I prefer my food to have immense flavor. And ask my husband, I am a sucker for sausage. So, I was very happy when I stumbled upon the sausage vendor truck. I passed by everyone that was selling food and headed towards the Sweet Farm truck. They were grilling sausages and had a kraut bar. Yep, you heard that correct, a kraut bar. They had classic kraut, beet kraut, spicy kraut and my favorite – now – curry kraut. And to add to my experience, they had specialty mustards- classic, Chesapeake, old bay and curry (of course this was my favorite, are you seeing a pattern?).
Sweet Farm suggested we make a "rainbow dog" out of four mustards. Well of course I tried it, duh. It was amazeballs! I could have honestly kept eating sausage and kraut all night.
Being the "social media" nerd I am, I came back and researched The Sweet Farm. I discovered a lot about them, including they won the 2016 Good Food Award for their mustard. This was not surprising in the least. Those special, delicious seasonings, yum! Check them out – https://thesweetfarm.com/ – you don't even have to like sausage, trust me, you won't be disappointed.
3. Operation Second Chance. The reason I was at Kentlands Under the Lights in the first place. I was scooping ice cream and making delicious sundaes for Veterans.
For many years, I served as a director on the Corporate Volunteer Council of Montgomery County board prior to its merger with Leadership Montgomery. I loved volunteering for many organizations in this capacity. I got exposure to many organizations and a variety of volunteering tasks. But Operation Second Chance holds a special place in my heart.
People volunteer for many reasons – new skills, career booster, experience, etc., I volunteer because it gives me the opportunity to be a part of something bigger than myself. With volunteering, I can use my civic responsibility for the greater good. I like to volunteer for organizations that I am passionate about and I believe in. I hope my time spent with an organization and/or my actions, whether big or small, will have an impact on someone's life or make a positive change in the world. One of my favorite quotes is from Gandhi, "be the change you want to see in the world". I'm not quite sure if I am that "change" -yet-; but I want to be, and I aspire to be.
Back to Saturday. When I saw a request from Operation Second Chance President & Founder Cindy McGrew asking for volunteers to sell ice cream at Under the Lights, I didn't even think twice. I knew I could volunteer a few hours on a Saturday night to raise money and awareness for our wounded, injured and ill combat veterans. It was my absolute pleasure. And you know what, it was a blast! I had so much fun. It was great speaking to people about Operation Second Chance and Ride Allegheny. A lot of folks had no idea what Operation Second Chance even does and how they help our everyday heroes.
Operation Second Chance is a non-profit organization that supports Veterans and their families while they recover in military hospitals, by building relationships and identifying and supporting immediate needs and interests. Ride Allegheny – a 10-mile bike ride from Pittsburgh, PA to Washington, DC – raises funds for Operation Second Chance so they can continue to provide aid and support for wounded, recovering and ill combat veterans as they transition back to active duty or civilian life. The money raised allows Operation Second Chance to continue its efforts like advanced prosthetics for veterans, retrofitting homes to accommodate veterans' who are wheelchair-bound or impaired otherwise.
Truth is, there are so many outstanding organizations you can volunteer your time with. There are oodles of volunteer opportunities in Montgomery County too. We all want to feel we're making a difference in someone else's life.  When I began volunteering years ago, little did I know I'd receive so much more than I give.
Get out there and volunteer! Committing even as little as one hour a week can have a profound benefit on your own life, and the organizations that rely on such help will be able to thrive. Go directly to an organization that you support and ask them what you can do to help. To view a list of the non-profit organizations that are GGCC Members, click here. You'll get more back than you ever imagined.