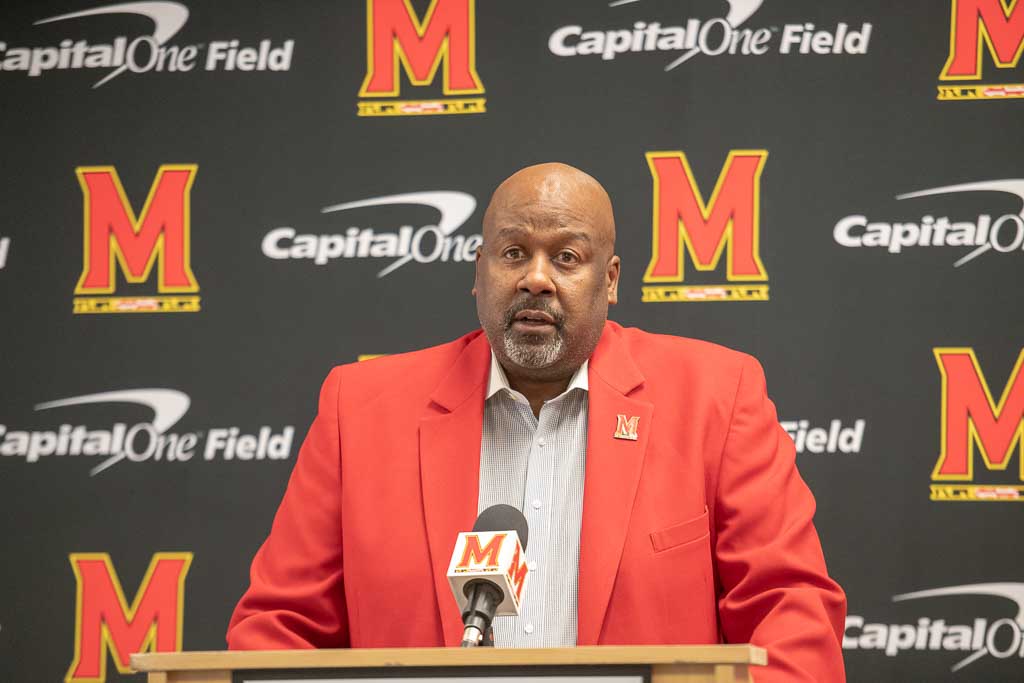 University of Maryland Sports Report – Winter/Spring 2019 Edition
Terps Football News
Officially Maryland's 2019 Football season began today at Tyser Tower as new head coach Mike Locksley announced the signing of 17 new members of the 2019 Football Class.  The coaching staff and the signing class will be reintroduced on Tuesday's evening event for season ticket holders and donors at the Riggs Alumni Center on campus.
Much of the buzz at this National Signing Day (NSD) event was over the most recent commitment of four-star recruit quarterback Lance LeGendre, out of New Orleans.  Locksley was surprised to find at the end of January that LeGendre had not committed to any school.  Within the last two weeks he had LeGendre and his family out to College Park and closed the deal.
Also, among the signing class is a former cross county opponent out of Wise High School, Isaiah Hazel.  A wide receiver, Hazel played during their 2015-17 undefeated seasons and again last year while losing to Quince Orchard at the State Semi-Finals.
Maryland signed six players from the DMV including 6'5″ Offensive Lineman, Mason Lunsford of Olney, MD out of Our Lady of Good  Counsel High School.
Women's Basketball News
The Maryland women's basketball team continues their winning ways holding down the 10th position in the national rankings.  In home action last week the team took on B1G opponent Wisconsin winning 75-57 before traveling to Illinois for an 80-66 road win.  Maryland returns home to play Northwestern on Thursday, November 7.
Men's Basketball News
Maryland men are barely holding on to a top 25 national ranking with a 18-6 record.  Coach Turgeon's hot team ran out of steam against Illinois in Madison Square Garden in late January losing 67-78 in what was essentially a friendly home crowd venue.  With a home win against Northwestern on January 29th the Terps hit face the road for what will be their toughest test of the season.
Maryland picked up a road win against Nebraska on Tuesday evening winning in Lincoln 60-45.  The Terps return home to face Purdue on Feb 12, then two more road games against top 5 ranked Michigan (2/17) and rising program at Iowa on February 19.  Should the Terps survive and pick up two wins out of the next three games they should be in a good position for a decent seating in the NCAA Tournament in March.
Lacrosse News
The Maryland men lacrosse team kicked off their season with an 11-6 win against Bucknell on a cold February 2nd Saturday in College Park.  The season continues with big away games scheduled at Notre Dame (2/23) and Albany (3/9) before kicking into B1G conference play.
The women's lacrosse season begins on Saturday, February 9 against cross town local George Mason, the game to be played in College Park.  Always a challenge season of B1G Ten conference play awaits but keep your eye on the last game of the season.  This is when the team will travel to Georgetown, not to shop but to play the Hoyas for what should be the best women's lacrosse game of the season with much local bragging and recruiting rights on the line.
Phil Fabrizio
All Images copyrighted 2019 © Phil Fabrizio | PhotoLoaf for MCM