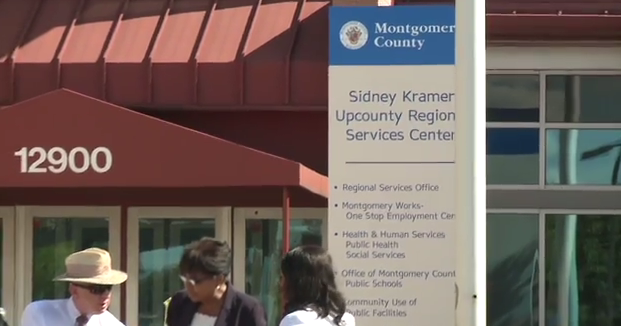 Upcounty Regional Services Center Renaming Ceremony (Video)
UPDATED
The Upcounty Regional Services Center was renamed the Sidney Kramer Upcounty Regional Services Center on Sept. 29 in honor of the former council member, state senator and county executive.
During his term as county executive, 1986 – 1990, Kramer was instrumental in strengthening the role of regional services centers to bring government closer to the people. He successfully oversaw the opening of the Upcounty Regional Services Center in 1990 and put the wheels in motion for a number of other public facilities, including another services center in the eastern part of the County, the new, expanded Germantown Library, the BlackRock Center for the Arts and the Germantown Volunteer Fire Department.
Participating in the ceremony were several officials, including County Executive Isiah Leggett, County Council Vice President Craig Rice, former U.S. Congresswoman and family friend Connie Morella and Maryland State Delegate and son Ben Kramer.
The ceremony took place at 2:30 p.m. at 12900 Middlebrook Road in Germantown.