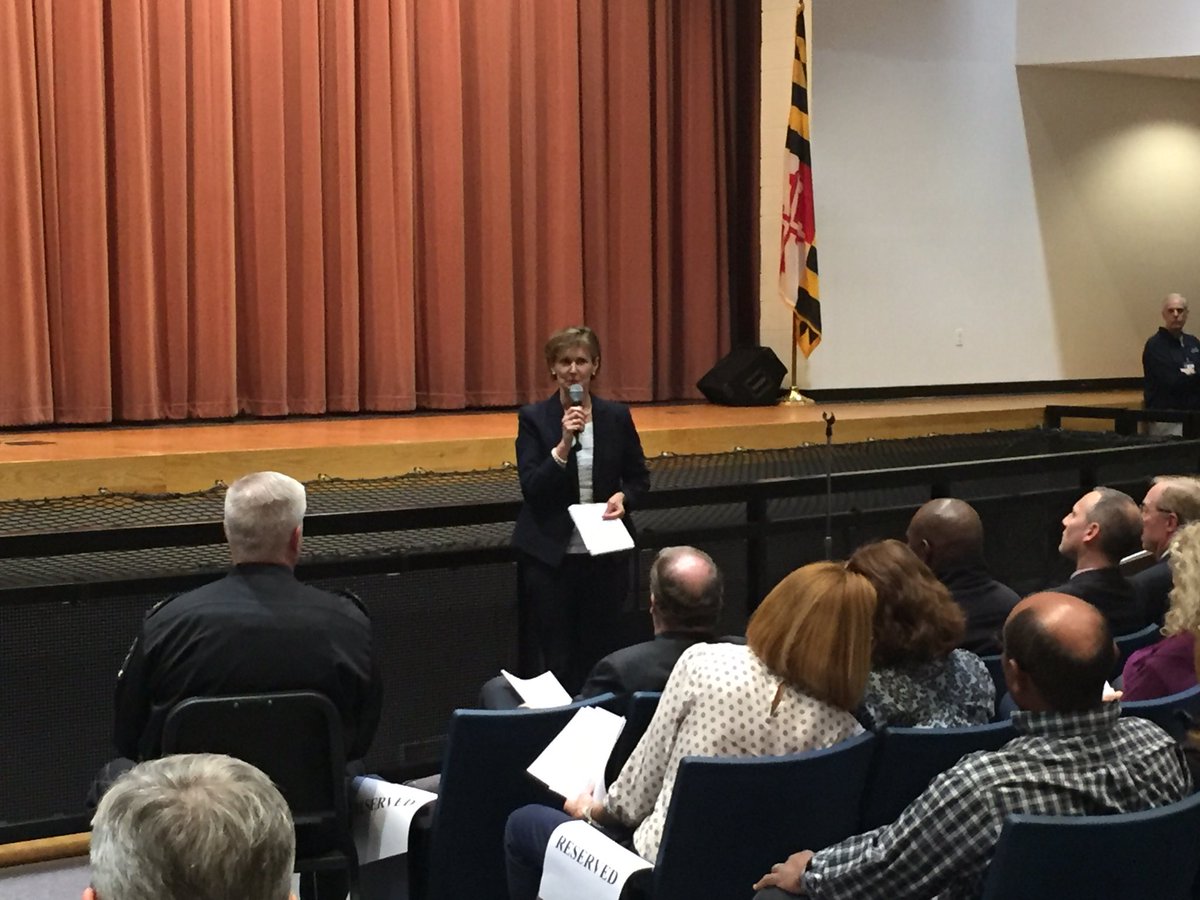 UPDATED: Police and MCPS Officials Address Rockville High PTSA Following Rape Report (VIDEO)
UPDATED: The Rockville High PTSA met Tuesday night receiving a presentation from Montgomery County Police officers and Montgomery County Public Schools (MCPS) officials about safety and security at Rockville High School.
Principal Billie-Jean Bensen began the meeting and she explained that it would be structured in three parts. She said parents were going to hear from police involved in the investigation, the superintendent and herself.
The meeting occurred five days after a 14-year-old student reported she was raped at RHS during school hours. Reporters were not allowed to attend the meeting. An MCPS district spokesperson said the PTSA did not want the media there.
After the meeting was over, MCPS officials posted a video of the meeting online, which you can watch below:
"This is an active and ongoing investigation," said Capt. Jim Humphries, who said his office received the report on March 16.  He called it a horrendous event and said the 14-year-old victim was traumatized. He said the suspects were arrested on school property. He said both suspects are being held in lieu of bail.
Capt. Dave Anderson also addressed parents, saying he is the commander in charge of the 1st District station, which includes 100 officers.  One of them is Officer George Hyson, who is the school resource officer (SRO) for Rockville High. Hyson began work Jan. 30 at the school, according to Anderson, after a decision was made to put a full-time SRO in the school. It was Hyson who cared for the girl until her parents were notified, Anderson said.
"We are outraged, absolutely outraged, by what happened here on March 16," Anderson said. "We swear to protect you everyday. … I take that responsibility very seriously."
"I am so sorry we have to meet this way," said Dr. Jack Smith, MCPS superintendent.  "It makes me sick at heart that we have to meet in this situation. We are here tonight to share with you the horror that we feel, that I feel about this," he said. He thanked parents for their support of the principal at the meeting. "She is a true professional and a true person of integrity," Smith said.
The superintendent said he is hearing from concerned parents who want to know if this could happen to their child. His message: "Schools are safe."
Still, Smith said the district is doing an intensive security review at every school. He said that process began last Friday.
Bensen told parents that the school has a five-member security team that knows the students. She said there are 105 cameras in the building and she said it is not enough. She wants more money to install more cameras. She said that was something she discussed before this incident happened. The principal also noted the continued enrollment growth at the school. There are 1,450 students enrolled this year, and she is expecting 100 more students next September.
After the principal's remarks the meeting was opened for questions from parents. One parent wanted to know if the incident was gang related. Humphries said there is no known gang connection to this case. The principal said she is not concerned nor aware of gangs at the school.
Another parent told schools officials that she is not happy about the security at the school, and she said she is disappointed with communications from the school.
"I believe this meeting is five days late," the concerned parent said. "What is Montgomery County doing to improve its communication during a critical moment with families?"
Smith said that is an area his staff is looking at to improve. "We are going to do better," he said. Smith said he wants to make sure schools have what they need in terms of cameras. He said more information about the steps the district is taking to improve communication and security will be shared publicly next week.
During the question-and-answer session, another parent noted that she thought the school's cameras need to be monitored during school hours and not just used after something has happened.
Bensen wrapped up the meeting, stating that she is committed to more communication with the school community.
Outside the meeting, the school's parking lot was filled with vehicles, there was security at the door and in the parking lot, and there were protesters with signs demonstrating across the street from the school.
Several people who walked out of the meeting early said they were not impressed with what they had heard from MCPS officials.
Boyds resident Robin Ficker, a Republican candidate for county executive, was in the auditorium, and said he thought school officials were trying to protect their reputation. He said he didn't learn anything new.
After he left the meeting, Silver Spring resident Sheldon Sacks said he did not think school officials were looking at the real problem. When asked what he meant, he said officials should be focusing on people who shouldn't be in school.
Two hours before the PTSA meeting, Smith held a news conference at the district's headquarters where he emphasized that safety in schools is his top priority. You can watch that news conference, here. You can find more information about the Rockville High School incident on the district's website, here.
At the Rockville HS PTSA meeting. Video of the meeting will be posted online tomorrow. pic.twitter.com/PCh72LaQVN

— MCPS (@MCPS) March 21, 2017
Information is available about the 3/16 serious incident at Rockville HS, with video from last night's PTSA mtg: https://t.co/7QCBR3GTMC

— MCPS (@MCPS) March 22, 2017