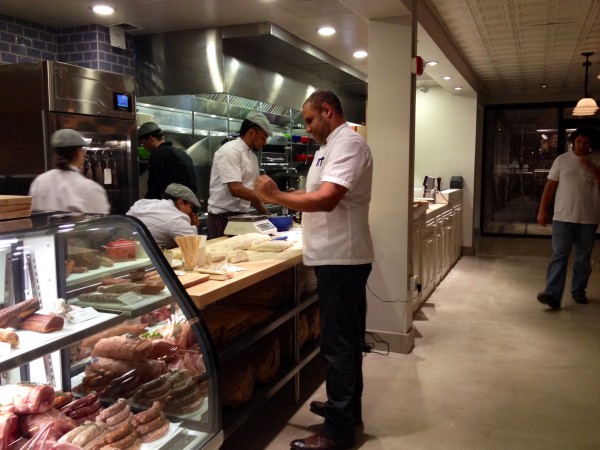 'Urban Butcher' Moves Into Silver Spring (Video)
A new business in Silver Spring is catching attention for its urban twist on the classic butcher shop, and is hoping to draw customers in with its unique "nose to tail" dining.
There are three elements to the new business which brings a butcher shop, bar, and coffee shop under one roof.
"We have the bar, we have the restaurant, we have the butcher shop but it's all tied up together," said chef and owner Raynold Mandizabel, during a packed pre-launch party Tuesday evening. "What's tied up together is this area and the community table we're going to be doing a lot of fun stuff, we're going to be listening to what the neighbors want and producing community meals."
Mandizabel's new restaurant includes a "curation cellar" in the back that he's been working on for more than a year.
"That room is supposed to represent the seasons in Italy and the final stage. It's supposed to be like a cave where you age the meat. So to get that right it took a while," Mandizabel said.
The location at 8226 Georgia Avenue in downtown Silver Spring breathes new life into a space that's been vacated for years.
"We've been waiting for this storefront to come alive for a long time because they redid the building maybe a year or two ago and then it sat empty," said Montgomery County Councilmember Hans Riemer, who attended the opening event with his two sons. "It was very mysterious what's going to happen here and then we got the good news that this incredible restaurant has opened. This is very vibrant, it feels like a good fit for Silver Spring."
And some say businesses like Urban Butcher moving into Silver Spring will be a positive trend for the area.
"I think it's going to keep enriching Silver Spring and I think it will help draw out a lot of businesses that we don't get outside of D.C.," said Rockville resident Joshua Clites.
"I hope it will encourage more people to come out to the area both from within from Montgomery County but also convince our friends from DC to make the trip up here as well," said blogger Dan Reed, who runs "Just Up The Pike," a site covering Silver Spring and Eastern Montgomery County. "I heard somebody say that this is the kind of place that Silver Spring has been waiting for."
The restaurant opens to the public on, Dec. 11. Find more information about the business on their website here.