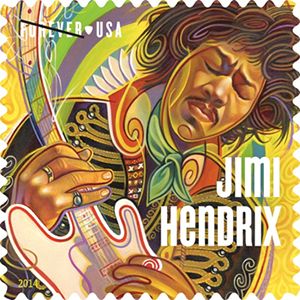 USPS Introduces the Jimi Hendrix Forever Stamp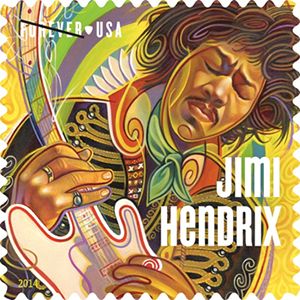 The Jimi Hendrix Forever Stamp went on sale today (March 13) at Post Offices nationwide and online.
"Combining influences from rock, modern jazz, soul and the blues with his own innovations, Jimi Hendrix helped found three new genres of music — heavy metal, jazz fusion and funk — and in doing so, left behind an indelible mark on pop music and popular culture generally," said Joseph Corbett, chief financial officer and executive vice president, U.S. Postal Service.
"I'm especially pleased that we continue celebrating our Music Icons stamp series with the issuance of the Jimi Hendrix Forever Stamp," Corbett said. Janie Hendrix, sister to the late Jimi Hendrix, joined Corbett to dedicate the stamp.
"I am deeply touched and so are other members of the Hendrix family by the issuance of this stamp, and I wish to thank the United States Postal Service for bestowing one of our nation's highest honors on my brother Jimi," said Janie Hendrix. "While my brother has been cited many times as being among the most influential musicians of all time, the recognition implicit in his being portrayed on a U.S. postage stamp ranks as an unparalleled honor."
The Postal Service has released numerous stamps to celebrate and honor music icons who had a big impact on American culture and the music industry. The Jimi Hendrix Forever Stamp kicks off the 2014 Music Icons series, which will include Janis Joplin later this year. The 2013 Music Icons series honored Johnny Cash, Ray Charles and Lydia Mendoza.
The new limited-edition Jimi Hendrix stamp, designed by artist Rudy Gutierrez, features a vibrant, colorful design fashioned to evoke the movement and rhythm of the late singer and pay homage to the psychedelic rock era of the 1960s.
The stamp pane, designed to resemble a vintage 45 rpm record sleeve, features a painting of Hendrix's face surrounded by colorful swirls and small icons that reference song lyrics or aspects of Hendrix's life. The various icons include flowers, a guitar, a mermaid and a butterfly. The stamp art shows Hendrix in performance, wearing one of his trademark vintage military jackets and playing one of his beloved white Fender Stratocaster guitars.
The Jimi Hendrix stamp is being issued as a Forever Stamp, which is equal in value to the current   First-Class Mail 1-ounce price.
Customers may view the Jimi Hendrix Forever Stamp, as well as a preview of many of this year's other stamps, on Facebook at facebook.com/USPSStamps, on Twitter@USPSstamps or on USPSstamps.