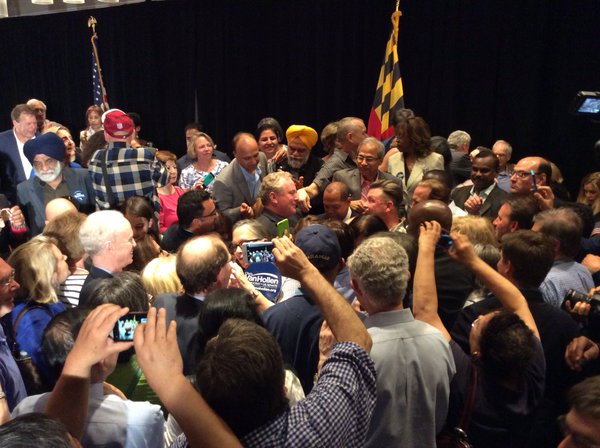 Van Hollen Claims Victory in Maryland Democratic Senate Primary (PHOTOS & VIDEOS)
Before hundreds of supporters, U.S. Senate candidate Chris Van Hollen claimed victory in the Democratic Senate Primary on Tuesday night.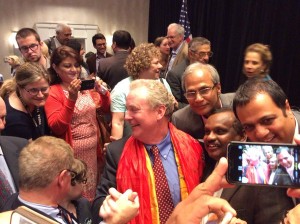 Van Hollen will compete in the general election against Republican U.S. Senate candidate Kathy Szeliga who represents Maryland's 7th District in the state senate.
Nearly 400 supporters packed a room for the election night watch party at the Bethesda Marriott located on Pooks Hill Road. Van Hollen said he plans on fighting for every vote during the general election and will work hard to unite voters. He also took time to thank U.S. Senator Barbara Mikulski for her many years of service in the U.S. Senate.
Van Hollen won over 50 percent of the the Democratic vote compared to his main opponent, U.S. Representative Donna Edwards (D-4th district), who carried nearly 39 percent of the vote, according to unofficial results from the Maryland Board of Elections.
"Tonight I want to say to all Marylanders whether you're from Baltimore City or Baltimore County or the Baltimore area, whether you're from the Washington suburbs or from western Maryland or southern Maryland and the eastern shore." Van Hollen said during his victory speech..I will fight hard for you everyday in the United States senate."
If elected in November, Van Hollen would go on to replace U.S. Senator Barbara Mikulski who has served in the U.S. Senate for nearly 30 years.
.@VanHollenForMD celebrates Maryland Democratic senate primary win tonight in #Bethesda @mymcmedia pic.twitter.com/Ug5TliR9dZ

— Willie James Inman (@imwilljames) April 27, 2016
.@VanHollenForMD thanks @SenatorBarb during his victory speech. @mymcmedia pic.twitter.com/yBjrBOqcgP

— Willie James Inman (@imwilljames) April 27, 2016
Related Posts: