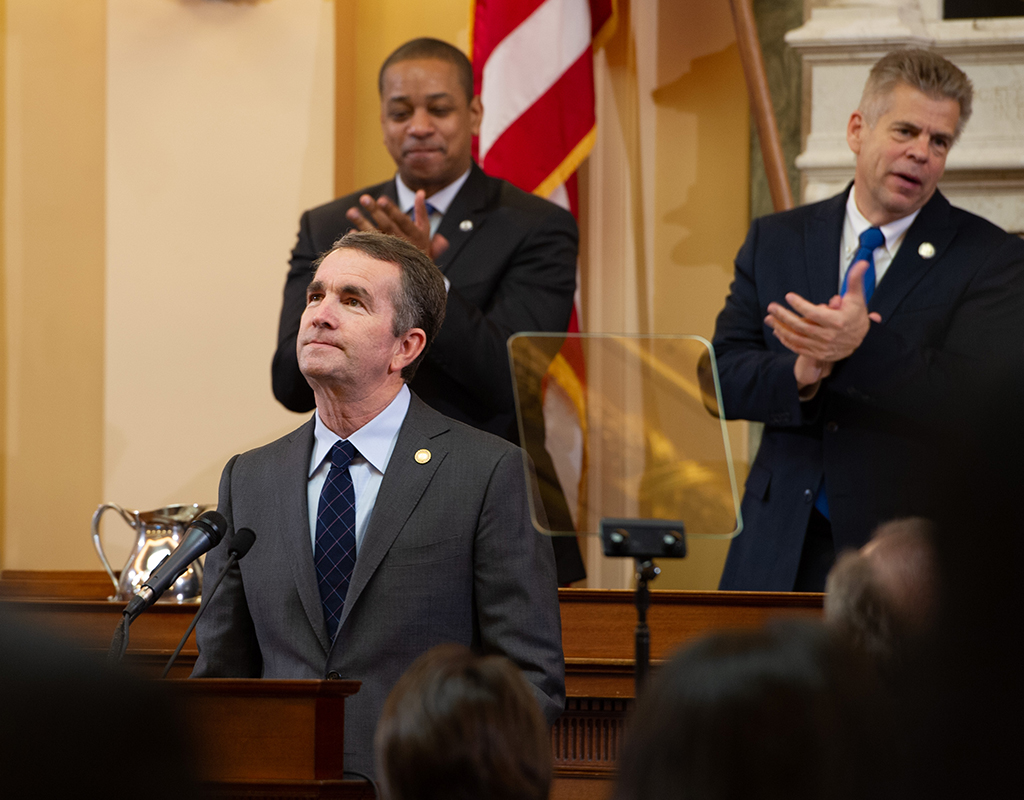 Van Hollen, Raskin Call for Governor Northam's Resignation
Maryland officials have taken to social media to call for Gov. Ralph Northam's (D-Va.) resignation over a racist image that surfaced Friday. The image came from Northam's 1984 yearbook page when he was a student at Eastern Virginia Medical School.
Virginia Gov. Ralph Northam did not resign during a news conference, saying he does not believe he is either person in the racist photo that appeared in his 1984 yearbook. https://t.co/z0mt72kzNx

— CNN (@CNN) February 2, 2019
On Northam's page in the yearbook, there's a picture of two men—one dressed in blackface, the other dressed in a Ku Klux Klan robe. On Friday, Northam issued a statement apologizing for the racist image, but on Saturday, Northam held a press conference contradicting his original statement and said he doesn't believe he actually is in that photo. However, he admitted to painting his face black for a dance party where he dressed up as Michael Jackson in the 80s.
Over the weekend, many prominent Democrats and Republicans have called for Northam to resign and allow Lt. Gov. Justin Fairfax (D) take over as governor of Virginia.
On Monday morning, Rep. Jamie Raskin (D-Md.) appeared on CNN, calling for Northam's resignation.
Raskin said, "We just don't think there's any place for this in the twentieth century."
Raskin told Jim Sciutto that he thinks the Democratic leaders' calls for Northam to resign shows a contrast between the Republican party and the Democratic Party.
"When the president said after the debacle in Charlottesville that there were very fine people who marched under the Nazi flag and under the Confederate battle flag, I think that that drew a very strong moral contrast between [the Republican] party and [the Democratic] party, which looks and sounds and acts like America," said Raskin. "I think that what Governor Northam's finding is that the political leadership has got to been held to the highest standard."
Ralph Northam should act with honor by resigning and making Justin Fairfax Governor. America has moral clarity on this and Northam should have recognized long ago that racism is dangerous and disqualifying for political leaders.

— Rep. Jamie Raskin (@RepRaskin) February 4, 2019
In addition to Raskin's statements, Sen. Chris Van Hollen tweeted Sunday, calling for Northam's resignation. Van Hollen called Northam's explanation for the racist photo "inadequate."
Governor Northam: From your neighboring state across the Potomac River, please do the right thing for our region and the country—resign. Your actions have been unacceptable and your explanation inadequate.

— Chris Van Hollen (@ChrisVanHollen) February 3, 2019
Other politicians representing Montgomery County residents weighed in on the controversy on social media, including Del. Vaughn Steward (District 19) and Del. Eric Luedtke (District 14).
Northam should've resigned last night. Also, there are apparently a lot of people who think that dressing up as a Klansman is racist, but that a statue of a Klansman is celebrating history.

— Vaughn Stewart (@DelegateStewart) February 2, 2019
Northam should resign. The picture is racist, period.

Justin Fairfax will make a great Governor.

— Delegate Eric Luedtke (@EricLuedtke) February 2, 2019