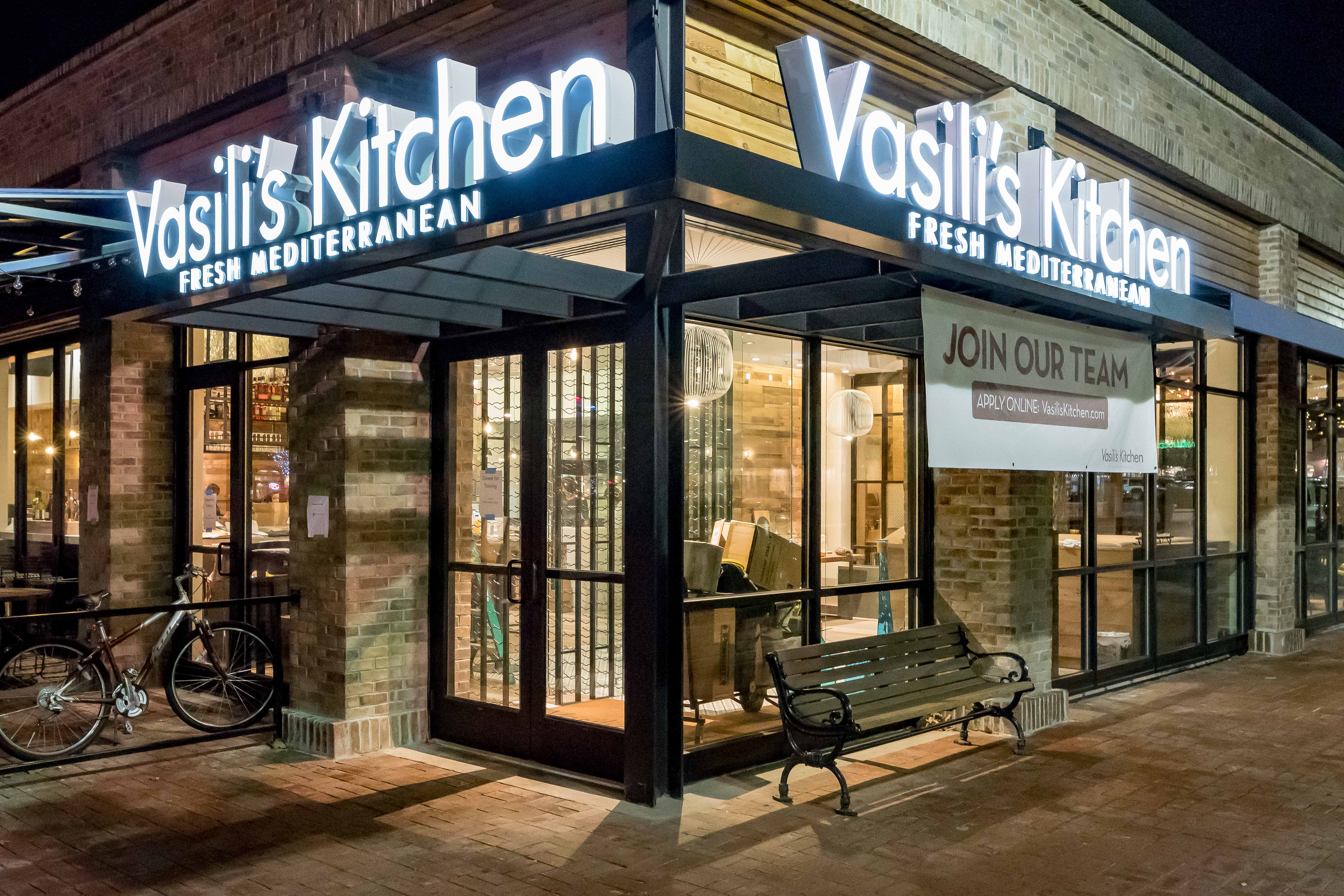 Vasili's Kitchen is Opening on Dec. 6 in Downtown Kentlands (PHOTO)
Vasili's Kitchen Fresh Mediterranean is officially opening at 705 Center Point Way in the Kentlands community of Gaithersburg on Dec. 6th.
That's the latest from restaurant manager Theo Hristopoulos.
When it opens, the 4,000 square-foot-space will accommodate 200 customers for dinner, six days a week. The restaurant will be open from 5 p.m. – 11 p.m., Tuesday-Sunday. It will be closed on Mondays.
"We want to master dinner before we get into lunch and brunch," explained Hristopoulos.
Hristopoulos says the restaurant has hired 52 full and part-time employees to serve customers.
The Hristopoulos family is no stranger to the Kentlands community. For over 15 years, the family operated the popular Vasili's Mediterranean Grill at 353 Main Street. According to Hristopoulos, Vasili's staffers will now report for work at the new restaurant and several employees have been promoted to new roles.
The Hristopoulos family is also partnering with celebrity chef Yiannis Lucacos, a graduate of the Culinary Institute of America, who appears as a judge on the European version of TV's MasterChef.
Hristopoulos says Lucacos is also well known for his cookbooks back in Greece.
"I was all over Greece," said Hristopoulos. "There was not a household who didn't have his cookbook."
As for the former restaurant, Hristopoulos said it was bittersweet when it closed three weeks ago. He said the closure gives staff a break to retool for the new restaurant. For now, the 1,500-foot-space is going to be used as a training ground for staff development. In the future, he said, his family may open a new venture at that spot.
You can discover the menu at Vasili's Kitchen by visiting the restaurant's website.  Starters include Kalamata olives and soup. Main dishes feature chicken, salmon, seafood, pork chops, ribeye and more.
Regulars will note the menu is all new, and Hristopoulos said the prices will be about the same or a little less than they were spending at the original Vasili's restaurant.
As for the design features inside the restaurant, Hristopoulos said his family is excited for customers to experience the concept firsthand.
"It's very unique," he said.
He touted the reclaimed wood chairs and walls, and Edison-style light bulbs. He said the bar sits 15 and there is a skylight so you can enjoy the fluctuations of daylight. There is also stained glass to enjoy, and a private dining room that seats 50 under a starry sky.
"We have some nice touches in the bathroom," he said. "Let's leave it as a surprise."
He said his family can't wait to share their new restaurant with their guests.
"We are so excited to open the doors to the community," said Hristopoulos. "We want them to see the success they have brought to this area….we are over the moon about being able to share that success with everybody."
Vasilis Kitchen is now accepting reservations via Open Table.
For more information, visit the restaurant's website, here.