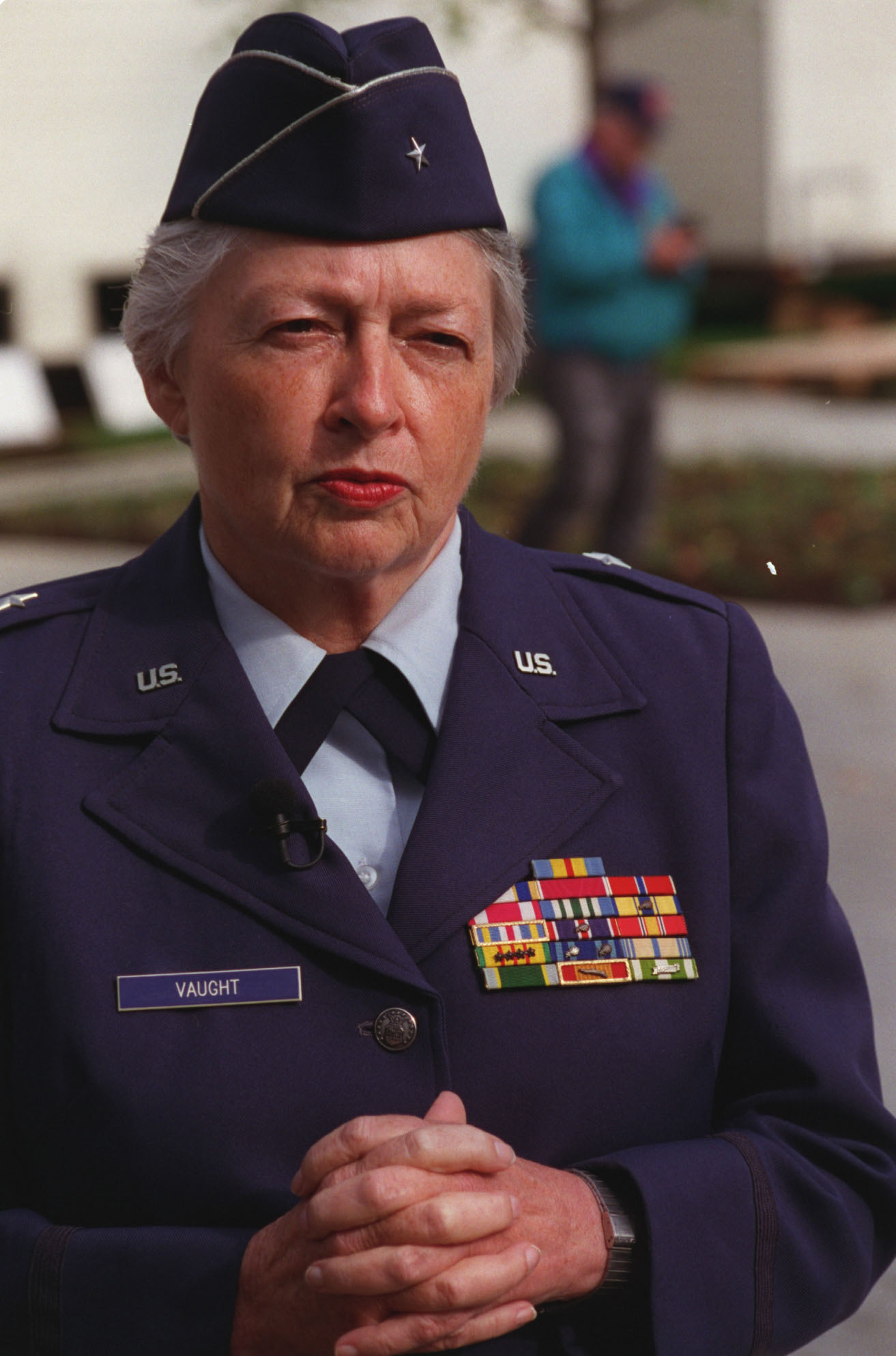 Vaught To Speak at Montgomery County Vietnam Veterans Salute on Oct. 24th
Retired Air Force Brigadier General Wilma Vaught, who retired after 28 years in the U.S. Air Force as one of the most decorated women in U.S. military history and who was one of the few military women to serve in Vietnam who was not a nurse, will be among the featured speakers on Saturday, Oct. 24, as Montgomery County honors the men and women who served the nation during the Vietnam War. The event will take place at the Universities at Shady Grove in Rockville, starting at 10:30 a.m.
The Vietnam War—which changed the lives of those who served and altered the political scene back home—ended for the United States in 1975. Bob Schieffer, who recently retired as host of CBS News' Face the Nation, has agreed to be the host and guest speaker for Honor and Gratitude: Montgomery Salutes Vietnam Veterans that will be the first significant event in the 40 years since to honor the County's Vietnam veterans. It is estimated that between 130 and 140 Montgomery County residents lost their lives in the Vietnam War. There are more than 13,000 Vietnam veterans currently living in the County.
County Executive Ike Leggett (who is a Vietnam vet), Council President George Leventhal and the County Council will lead the special ceremonies at the Universities at Shady Grove at 9630 Gudelsky Drive in Rockville. The event will be recorded and broadcast on many of the public cable television channels that compose the County's PEG (Public, Education, Government) organization, which is hosting the event. In addition, the PEG organization will be recording the stories of many of the veterans for a documentary.
Among the speakers will be U.S. Senator Benjamin Cardin and U.S. Congressman Chris Van Hollen.
The program will include a look back at some of the significant events of the U.S. involvement of the conflict that dates to July 8, 1959, when two U.S. military advisers were killed in a raid at Bien Hoa. More than 800 people are expected for the Oct. 24 event, including those who were present in major actions of the 11-year U.S. involvement. Those events included attacks on the USS Maddox in August 1964 that led to Congress on Aug. 7, 1964, passing the Gulf of Tonkin Resolution that gave President Lyndon Johnson the power to take whatever actions he saw necessary to defend South Vietnam against Viet Cong forces.
Honor and Gratitude: Montgomery Salutes Vietnam Veterans event organizers are currently seeking to contact more of the veterans who will be honored on Oct 24. Those veterans, or family and friends of the veterans, seeking more information about the event should call 301.424.1730 ext. 350. Additional details, including how to register to attend the free event, can be found on the event's web site at: http://www.mocovietnamvets.org/
"It has been almost four decades since our Vietnam veterans returned home," said County Executive Leggett. "We want to take this opportunity to acknowledge their courage and patriotism and say thank you for making the world a better place. As a veteran of the Vietnam War, I know the sacrifices that were made by members of our military during times of war. This event is a perfect way for all of us to pay tribute to these brave and honorable men and women."
Retired Air Force Brigadier General Vaught, who retired in 1985 forged new paths and pioneered opportunities for the servicewomen who would follow. When she was promoted to brigadier general in 1980, she was one of a handful of women in the world who had ever achieved that distinction.
While her military accomplishments are extraordinary, General Vaught's most lasting contribution likely will be her successful efforts related to the Women In Military Service For America Memorial. She was the driving force that built and now operates the $22.5 million memorial, which is located at the gateway to Arlington National Cemetery. The Women's Memorial is the nation's only major memorial to pay tribute to the nearly 3 million women who have served in the U.S. military.
In 2012, Brigadier General Vaught was the first recipient of the USAF Brigadier General Wilma Vaught Visionary Leadership Award. In 2013, the White House honored her as a "Champion of Change." She also has been inducted into the National Women's Hall of Fame.
Other featured speakers at the event will include Retired Army Lt. Colonel Douglas "Lamar" Allen, Jr., a Burtonsville resident who was awarded the Distinguished Flying Cross in Vietnam for flying his helicopter in a monsoon to rescue numerous wounded and injured soldiers who were pinned down after an ambush.
In March 1969, during heavy inclement weather in the central highlands of Vietnam, he was flying on a different assignment when he monitored that a "sister" ground unit had been ambushed and had wounded soldiers still under attack, but needed numerous wounded to be extracted. The normal Medevac (evacuation) unit indicated they were grounded due to the weather and could be hours from sending help. Lt. Allen broke into the discussion and indicated he and his crew were in position to could try and assist.
"I just said to my crew that we need to do this and no one said not to," said Lt. Allen. "Due to the weather and to stay out of enemy ground fire—we were flying at tree top level, but knowing the area of operations, I felt confident we could find them and hopefully get in and out quickly. Everything was moving pretty quickly, but they carved out a landing area for us and we were in and out in about two minutes. We got all six wounded out and they say we saved several lives. I thought it was 60-40 that we could make it, and we were lucky. In those situations, you just did whatever needed to be done to assist your fellow soldiers."
Retired Navy Commander Everett Alvarez, Jr., who was the first American aviator shot down over Vietnam and held prisoner for 8 ½ years, also will be among the speakers. He holds numerous military decorations including the Silver Star, two Legions of Merit, the Distinguished Flying Cross, two Bronze Stars and two Purple Hearts.
Commander Alvarez, the grandson of Mexican immigrants, was a 26-year-old Navy pilot based on the USS Constellation aircraft carrier in the South China Sea on Aug. 5, 1964, as tensions were heightening in the area. He was part of a bombing mission over North Vietnam sent in retaliation after a reported North Vietnamese attack a day earlier on two U.S. destroyers. The alleged attack (whether it actually took place was subsequently questioned) was known as the Gulf of Tonkin incident, and marked the start of a significant escalation of U.S. military action in Vietnam.
In a recent interview with the BBC News, Commander Alvarez said he survived imprisonment in what became known as the "Hanoi Hilton" thanks to the mutual support of the other prisoners who communicated with each other by tapping on the prison walls.
Schieffer was a reporter for more than half a century and 2015 marked his 46th year at CBS News and his 24th anchoring Face the Nation. Prior to joining CBS in 1969, he was a reporter at the Fort Worth Star-Telegram where he was the first reporter from a Texas newspaper to report from Vietnam.
He has won virtually every award in broadcast journalism including eight Emmys, the overseas Press Club Award, the Paul White Award presented by the TV News Directors Association and the Edward R. Murrow Award given by Murrow's alma mater Washington State University. In 2008, he was named a living legend by the Library of Congress. In 2013, Schieffer was inducted into the National Academy of Arts and Sciences Hall of Fame.
Other speakers at the event will include veterans who served in various aspects of the Vietnam conflict. The event will honor their service and also will look at how those experiences influenced their lives since.
"So many in our community heroically served our nation, and the world, 40 years ago," said Council President Leventhal. "Oct. 24 will be a day where our County recognizes those whose actions helped that had such a great impact on our nation. There have been many books written, and many movies made, about the people we will honor, but on this day, we will personally thank—and hear directly from—some of the men and women who did so much to shape the life and freedom we know today."
An important part of event will be the opportunity to record the stories of the Montgomery residents who served in Vietnam.
"Whether they were troops in the jungles, on helicopters and bombers, serving on the ships, the river patrol boats, in the medical corps or the troops supplying them all, there are stories that have yet to be told about Vietnam," said Merlyn Reineke, chair of the PEG Governing Board. "This event will introduce a new generation to the sacrifices made by the brave men and women in Vietnam, and as the County's cable providers, we will be there to preserve these stories so future generations will know about their heroism. It is hard to believe there has never been a major event to honor Montgomery County's Vietnam vets, but we think this is the right time to salute them."