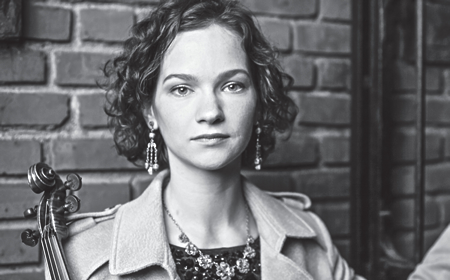 Violinist Hilary Hahn Performs at Strathmore (Video)
The Washington Performing Arts Society (WPAS) presents Grammy Award-winning violinist Hilary Hahn and pianist Cory Smythe April 23 at 8 p.m. at the Music Center at Strathmore, 5301 Tuckerman Lane, North Bethesda.
Hahn's two-CD set "In 27 Pieces: The Hilary Hahn Encores," released at the end of last year and featuring two of the works to be played at this concert, was at the top of Billboard's Classical Chart for two weeks. The CDs feature works commissioned by Hahn after she noticed, nearly a decade ago, that new encore pieces were not being showcased as much as other types of contemporary works. Hahn commissioned over two dozen composers to write short-form pieces for acoustic violin and piano to showcase contemporary compositions. The encores premiered over the 2011-12 and 2012-13 seasons. Said NPR, "Hahn brings these myriad personalities to life with the élan of a seasoned character actor, armed with technique, timing, color, wit and guts…Encores, by definition, are the musician's gift to the audience. With this project, Hilary Hahn has handed over 27 new gifts that will keep on giving — both to listeners everywhere and to anyone who takes up a fiddle and a bow." For more information, watch the In 27 Pieces trailer.
Hahn remains one of the most sought-after artists on the international concert circuit, appearing regularly with the world's elite orchestras and on the most prominent recital series in Europe, Asia, Australasia, and North and South America. Hahn has released numerous feature albums on the Deutsche Grammophon and Sony labels, in addition to DVDs, an Oscar-nominated movie soundtrack, and an award-winning recording for children. In repertoire as diverse as Bach, Stravinsky, Elgar, Beethoven, Vaughan Williams, Mozart, Schoenberg, Paganini, Spohr, Barber, Bernstein, and others, her recordings have received every critical prize in the international press. All have spent weeks on Billboard's Classical Top Ten list. Hahn's former teacher, composer Jennifer Higdon, wrote a Pulitzer Prize-winning concerto for her that was recorded and released, along with
the Tchaikovsky Violin Concerto in 2010. In 2011, Hahn released Charles Ives: Four Sonatas, performed with Valentina Lisitsa, and in 2012 she released an improvisational CD titled Silfra with the pianist Hauschka. A three-CD retrospective was also released in 2012.
Pianist Cory Smythe engages a broad repertoire of new, classical, and improvised music. He has performed internationally, making appearances as
soloist and chamber musician at the Darmstadt International Summer Festival for New Music, the Bang on a Can Marathon in New York City, the Green
Mill jazz club in Chicago, and the Mostly Mozart festival at Lincoln Center. In recent seasons, Smythe has enjoyed a recital partnership with Hilary Hahn, with whom he has played in many concert halls throughout Europe, Japan, and the U.S.A., while also collaborating on the recording of In 27 Pieces. In a review of the duo's recent performance at the Kennedy Center, the Washington Post praised Smythe for "the ferocity and finesse of his technique."
Tickets start at $30 and may be purchased by calling 301.581.5100 or online at the WPAS website.
Program:
Schoenberg Phantasy for Violin and Piano, Op. 47
Mozart Sonata for Violin, TBD
Schubert Fantasia in C Major for Violin and Piano, D. 934 (Op. posth. 159)
Telemann Fantasia No. VI in E minor for solo violin, TWV 40:19
Anton Garcia Abril Three Sighs (from In 27 Pieces: the Hilary Hahn Encores)
Richard Barrett Shade (from In 27 Pieces: the Hilary Hahn Encores)
Video of Hilary Hahn performing

"In 27 Pieced: the Hilary Hahn Encores" Album trailer