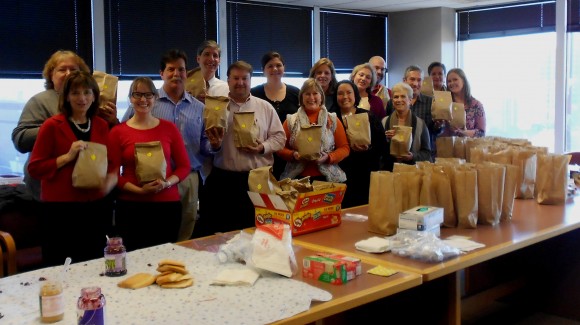 Volunteer Council Supports Shepherd's Table
The Corporate Volunteer Council of Montgomery County (CVC-MC) annual board retreat was held on Monday, November 5 at the Bethesda Chevy Chase Chamber of Commerce. In conjunction with its meeting, the board participated in its own community service project. For the second year in a row, board members rolled up their sleeves and made 120 bag lunches for Shepherd's Table in Silver Spring.
Shepherds Table is an organization that provides help to the homeless or those in need of meals, social services, medical support, clothing, and other assistance/services. Shepherd's Table provides dinner meal service seven nights a week from 6:00 p.m. to 7:30 p.m. Learn more about Shepherd's Table at: www.shepherdstable.org.
Thanks so much for the delivery of the 120 bag lunches, what a great treat for our clients and dinner guests. So appreciate all that you do so generously for us and so many others!" Jacki Coyle, Shepherd's Table
The bag lunches were delivered to Shepherd's Table, who distributed them to individuals in need in Montgomery County. The lunch bags included a peanut butter & jelly sandwich, a juice box, cookies, potato chips, carrots & a smile.
The Corporate Volunteer Council of Montgomery County (CVC-MC) educates businesses on how to partner with and support non-profit organizations by helping create successful volunteer/charitable programs that positively impact the business, its employees and the local community. To learn more about the CVC-MC visit them on the web at www.cvc-mc.org.