Volunteers Needed for Snow Angels Program in Takoma Park
The City of Takoma Park seeks volunteers for it's Snow Angels program. The program provides snow removal assistance with walkways, steps, sidewalks and driveways for residents physically unable to remove snow. Volunteers of all ages are encouraged to apply.
Those interested in volunteering can register online by clicking the link here.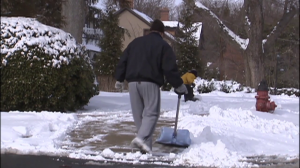 To register for assistance you can contact the Lifelong Takoma program by e-mail at lifelong@takomaparkmd.gov or by calling 301.891.7232. It takes seven business days to process registrations prior to a forecasted snowstorm.
In order to qualify for the Snow Angels program, you must:
Be a Takoma Park resident
Have a disability that prevents you from removing snow
Not have anyone living in your home who is able to assist with snow removal
For more information you can visit the City of Takoma Park's website.