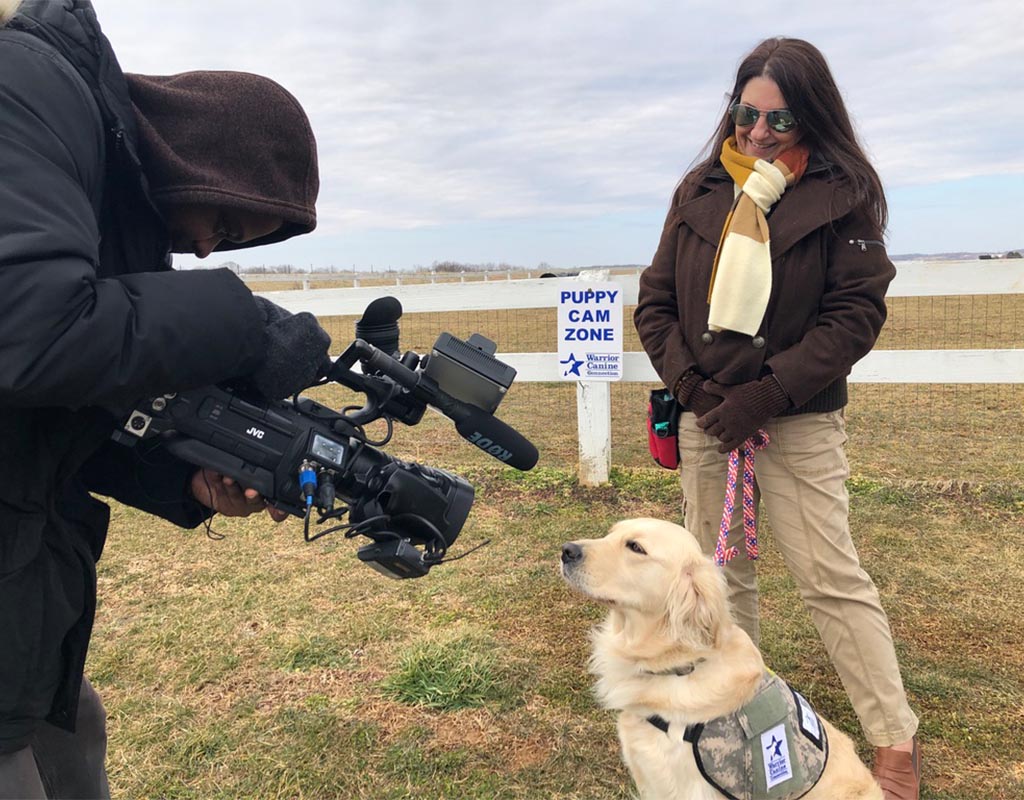 Warrior Canine Connection Restores Barn to Help More Veterans
Since moving to Boyds in 2016, the Warrior Canine Connection has continued helping military veterans and their families heal their wounds, both visible and invisible.
The nonprofit organization breeds yellow and black labs, as well as golden retrievers. Immediately from birth, every puppy undergoes extensive training, preparing to work as a service dog for veterans.
Each dog, named after a veteran, learns hundreds of commands — they learn to pick up keys, credit cards, open the fridge, and much more. These unique commands are important to veterans who may have been injured in such a way that makes it difficult to bend over.
Now, after a $265,000 donation from AGC Charities Inc. (the "charitable arm" of the Associated General Contractors of America), the organization will have the opportunity to expand their organization, and help even more veterans.
The 1938 Dairy Barn Comes Full Circle Helping Veterans
Associated General Contractors made the donation to Warrior Canine Connection for their 100th year charity project. The donation allows the Schaeffer Road Farm dairy barn from pre-World II to be restored and made into a new "Healing Quarters."
According to Warrior Canine Connection's website, the healing quarters will not only be home to the organizations "Mission Based Trauma Recovery program," it will be used "to breed, train and partner future service dogs."
Rich Yount, the executive director of Warrior Canine Connect, was at a loss for words Wednesday, when the organization celebrated "Hard Hat Day," where they thanked donors and offered tours of the barn to the media.
"We are very grateful, and this barn is going to help us heal many, many thousands of veterans in the future," said Yount.
Brian Turmail, the spokesman for Associated General Contractors, told MCM that the history of the barn is fitting for it once again to be a place that supports the military.
Turmail said, "So this barn was actually designed to help expand dairy production to support the war effort, and then after doing that it's spent a lot of time as, actually a horse barn, and now it's coming full circle and will once again be a place designed to support and help our veterans."
In a press release, Michael Anderson, the chairman of AGC Charities, said that the organization sees this as an opportunity to help "wounded veterans" rebuild their lives.
Anderson said, "Considering how much Warrior Canine Connection has already accomplished while working out of a glorified garage, it is easy to see how its impact will grow once its new headquarters opens."
Tour of the Future Healing Quarters
Warrior Canine Connection posted a tour of the future healing quarters center on their Facebook page.
Additionally, Warrior Canine Connection also has a "construction cam" on their website, for people to follow with the progress of the new healing quarts.
Join us on a live tour of our future Healing Quarters with Fitzgerald's Heavy Timber Construction!

Posted by Warrior Canine Connection on Wednesday, February 27, 2019
Tweets From the Hard Hat Day at Warrior Canine Connection in Boyds
The new barn will help thousands of veterans in need. pic.twitter.com/nzKiftc9cu

— Deirdre Byrne (@DeirdreByrneMCM) February 27, 2019
Here's Sandy going over some "commands" with Barb. 🐕 pic.twitter.com/YqqGX2UIlA

— Deirdre Byrne (@DeirdreByrneMCM) February 27, 2019
And here's Barb making friends with Tommy the yellow lab! 🐕 pic.twitter.com/RvmaXbbjwh

— Deirdre Byrne (@DeirdreByrneMCM) February 27, 2019
Tommy knows many commands, like picking up keys.🔑 pic.twitter.com/bNmi34bmHU

— Deirdre Byrne (@DeirdreByrneMCM) February 27, 2019
Here's a look at the Dairy Barn that's undergoing renovation. ACG Charities Inc. made a donation of $250,000 to help convert the pre-World War II barn into the @WarriorCanineCn's new Healing Headquarters. pic.twitter.com/sgxGuzZjJj

— Deirdre Byrne (@DeirdreByrneMCM) February 27, 2019