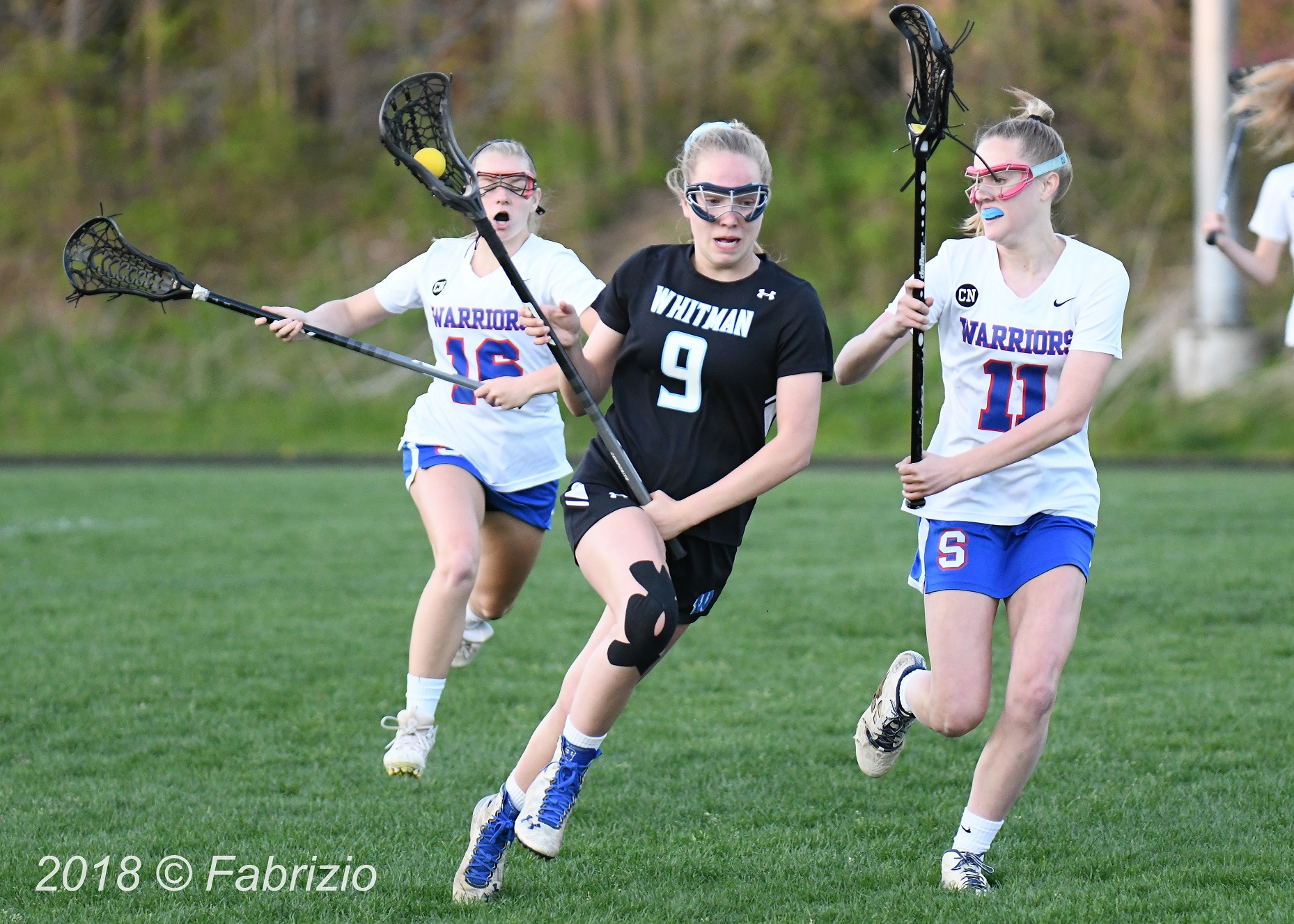 Warriors Prevail in Battle of Undefeated
The Sherwood Girls lacrosse team took it into sudden death overtime to beat Whitman Vikes 11-10 in Ashton on Tuesday evening, May 1.  Both MoCo teams came into the contest undefeated and are looking to improve their seedings for upcoming MPSSAA 4A playoffs.  Whitman, coming out of the MD 4A West division might just face off against Sherwood who needs to survive in the tougher MD 4A East in seeding matchups.  Meanwhile, both teams need to finish strong during  the remainder of the regular season.
Sherwood, lead by Senior Attack Anna Lippy's four goals had an easy go during the first 16 minutes of play leading by a score of 7-2, Whitman found a way to rally to narrow the gap  at 7-5 with five minutes to play.  That is when Whitman's  younger Svec and Kostopulos, 2 goals and 3 goals respectively, took over to put the Vikes up 8-7 at the half.
After half the Vikes pushed the lead up to 9-7 and both eventually tied at 9-9 in what would become a defensive battle of goalies during the second half.  Between Sherwood's Lippy and Junior Abbey Rose (two goals) they fired 23 shots on the Vikes goal.  It all came down to defensive play by both teams with the score tied at 10 apiece at the 5:43 mark in the second half until the horn.
Sherwood and Whitman burned through the first mandatory three minute overtime with no score setting up a sudden death appointment awaiting the winning goal shot by either team.  Anna Libby found a crease and the back of the net as the clock ticked down to 39 seconds left in the 2nd OT setting off pandemonium on the Warriors sideline.
Though neither MaxPreps nor the Washington Post has either team ranked as the season nears its end, we all know that the state playoffs matter the most.  The 4A division doesn't have as many highly ranked teams statewide (most are in the 3A division).  But because the nature of the divisional seeding (4A West / 4A East) these two teams may play once again in the MPSSAA playoffs on a neutral (and better turf field) at Gaithersburg High School in a few weeks.
Phil Fabrizio – PhotoLoaf
All images copyrighted 2018 © Fabrizio | PhotoLoaf®
Photos to follow