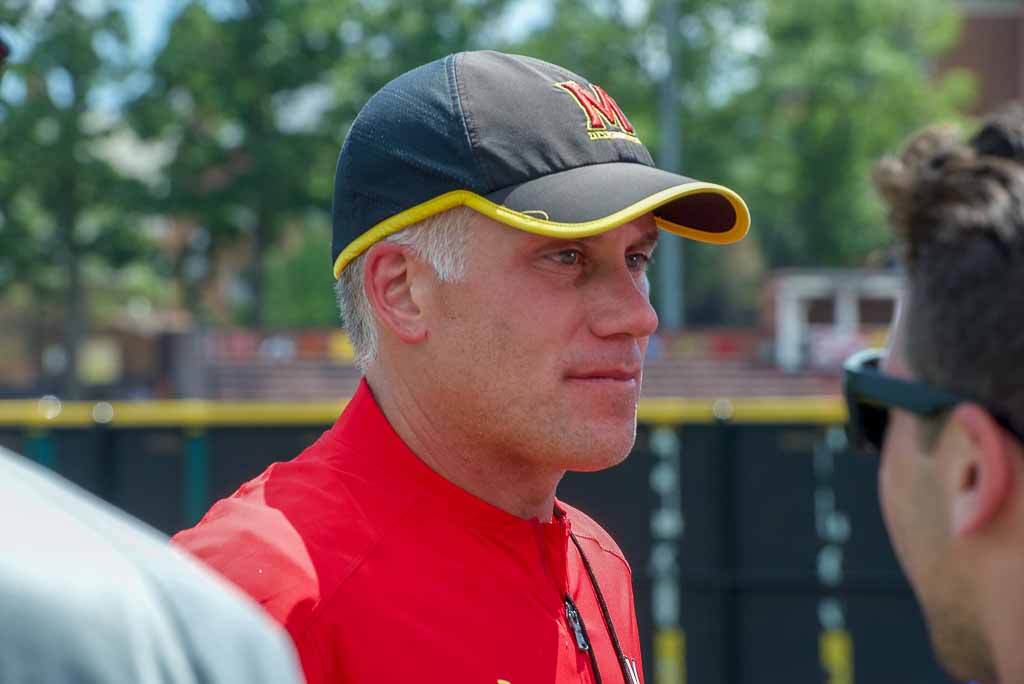 Update: Washington Post Says Durkin to Return as Terrapins' Coach
The Washington Post is reporting that D.J. Durkin will return to his duties coaching the University of Maryland football team. Athletic director Damon Evans also will be returning and Maryland President Wallace Loh is planning to retire in June.
Durkin and Evans were at the center of a controversy the followed the death of 19-year-old Jordan McNair due to heatstroke. McNair was an offensive lineman for the Terps.
A 74-page report by an outside group found that trainers called for an ambulance for McNair an hour after he first showed symptoms of heatstroke.
Durkin has been on administrative leave since Aug. 11.
---
UPDATE, 4:55  p.m.: Here is the text of a letter Loh posted on a University of Maryland website:
The Commission Report and the Path Forward

Dear University of Maryland community,

Serving as the 33rd President of the University of Maryland has been the greatest experience of my professional life. Since I arrived on campus in Fall 2010, I have had the honor and the pleasure of working alongside and leading 50,000 of the most impressive faculty, staff and students in academia to advance our beloved University. Together, we have boldly transformed our University, in ways both significant and subtle. Today, our University deservedly stands among the most distinguished institutions of learning in the world.

Change is a necessary agent of progress. It is in that spirit that today that I announce my retirement as president of the University of Maryland. My final day will be June 30, 2019, a time frame sufficient to help ensure a smooth transition to a new president.

The past several months have been exceedingly difficult for the University, Maryland football, and all who support the Terps following the tragic death of Jordan McNair. As many of you are aware, the independent commission on the culture of Maryland's football program recently completed their work and provided a report to the University System of Maryland Board of Regents. The report states that the University leadership bears some responsibility for the ongoing dysfunction of the Athletics Department. I accept that responsibility. Last August, I accepted legal and moral responsibility for the mistakes that our training staff made in Jordan's care. I stand by that decision 100%.

The commission's report found that "the Maryland football team did not have a 'toxic culture.'" But the commission did find troubling behaviors within the program. We must work to create a healthier culture that advances the well-being of our student-athletes. Today, Athletic Director Damon Evans and I agreed to implement all recommendations made by the commission and the Board of Regents. Together, Damon and I will spearhead these reforms to ensure the safety and well-being of all student-athletes.

The Board of Regents recommended that Head Coach DJ Durkin will return from administrative leave to resume his regular coaching duties.

In May, I will join the Class of 2019 at Commencement to bid farewell to our University. Together, we will look back on our years in College Park with enduring affection. I will be proud of the growth of our academic enterprise with the addition of talented new faculty members across all disciplines. I will look to our surrounding communities with amazement at how we have together started to transform the Greater College Park region into a hub of innovation and economic development. I will join thousands of supporters and friends who have raised an unprecedented $1.4 billion over the past 8 years to fund groundbreaking research, student scholarships, and world-class learning facilities.

And I will look back with pride upon the most diverse, most-academically talented classes in the University's history, thousands of students who are already making an incredible mark on our world. This is our shared legacy.

But there is much to do before I go. Today, I will simply get back to work.

With esteem and appreciation,

Wallace D. Loh
President, University of Maryland
---
A statement from Gov. Larry Hogan:
Governor Larry Hogan Statement on University of Maryland Actions
ANNAPOLIS, MD – Governor Larry Hogan today issued the following statement regarding the University System of Maryland Board of Regents' announcement of the results of their investigation into the University of Maryland, College Park athletic program:
"First and foremost, we cannot lose sight of the events that led to the Board of Regents' investigation. The death of Jordan McNair was a terrible tragedy that should never have occurred and must never be forgotten.
"I've said from the beginning that this was a very serious matter that required action and transparency. Although our administration was not a part of the process and I do not know how the regents arrived at their conclusions, in the weeks ahead, we will be pushing for assurances that the issues outlined in the report will be effectively addressed.
"University leadership still faces the considerable challenge of restoring the trust of students, families, and faculty, and proving that there is and will be accountability for any actions that adversely impact student welfare and the standing of our flagship university. The addition of an oversight board seems to be a positive step, but many will understandably question whether enough has been done to address the serious concerns that exist among many in the College Park community – I am one of them.
"It is incumbent upon the regents, President Loh, and the College Park athletic department leadership to build a stronger athletic program where student athletes are always treated with dignity and respect, and to ensure that UMD remains a world-class academic institution that fosters a safe and supportive environment where all students can achieve their dreams."