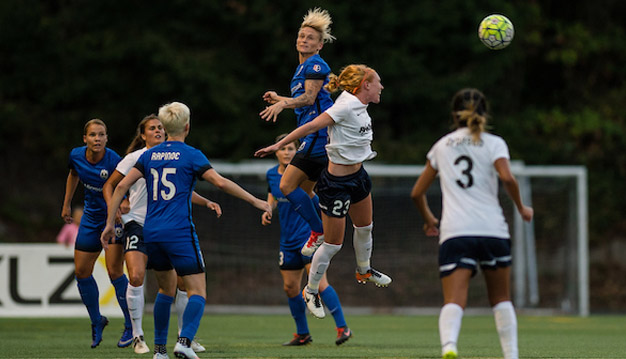 Washington Spirit Falls to Seattle Reign, 2-0, on the Road (VIDEO)
The Seattle Reign FC defeated the Washington Spirit 2-0 in Memorial Stadium in Seattle in front of 4,574 fans Sunday evening. Goals from Seattle veterans Beverly Yanez and Keelin Winters kept the Reign alive in its playoff race.
The first goal of the match came in the 27th minute when Reign midfielder Jess Fishlock sent a perfectly placed ball to Megan Rapinoe as she made a  quick-paced run down the left flank. Rapinoe sent a pass across the face of the net to Yanez who stood wide open after a far-post run on the right side. Yanez easily tapped the ball into the back of the net, giving the Reign the early lead.
In the 78th minute, Winters earned a memorable goal. In the Reign Captain's last home game before she retires after this season, Winters drilled a shot into the lower left corner of the net past an outstretched Kelsey Wys. Despite her best efforts, the shot proved much too powerful for Wys to get a hand on.
The Spirit's two best opportunities of the night arose amidst chaos in the six yard box. The first came in the 41st minute when Joanna Lohman found herself with the ball just feet away from Reign goalkeeper Haley Kopmeyer. Several players took touches and shots on the ball, but all chances proved futile as the Spirit was not able to break down the Reign's defense.
Similarly, in the 89th minute, several players including defender Estelle Johnson, who had a couple dangerous shots tonight, had chances in the penalty box. However, after several shots and deflections, no Spirit players were able to capitalize.
The Spirit will conclude its regular season on the road as the team takes on the Chicago Red Stars on Saturday, September 24 at 8 p.m. ET. A win in Chicago would earn the Spirit the NWSL Shield. The Spirit will then return to the Maryland SoccerPlex on either Friday, Sept. 30 or Saturday, Oct. 1 for the first home playoff in franchise history.
You may watch the game in its entirety below: