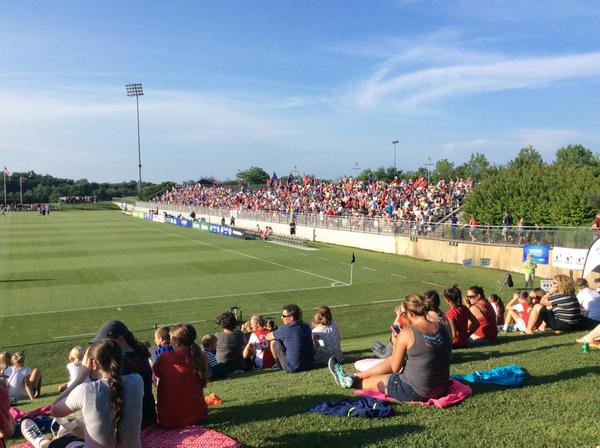 Washington Spirit Over Seattle Reign FC, 3-0 (PHOTOS & VIDEOS)
The Washington Spirit remain undefeated at home after winning Saturday night's soccer game 3-0 over the Seattle Reign FC.
The three goals were scored by Amanda Da Costa, Crystal Dunn and Christine Nairn in front of 5,413 fans at the Maryland SoccerPlex in Boyds.
This was the team's first home game since the U.S.A. World Cup win and soccer fans enthusiastically welcomed home defender Ali Krieger and goal keeper Ashlyn Harris at the field.
Both players held individual news conferences before the game began. Krieger said she's been drained emotionally and physically from the experience but she said it's also been so rewarding.
Harris said the World Cup victory was huge for the sport.
Both Krieger and Harris did not play in the Spirit's home game on July 18th as they continue to rest after their hectic World Cup homecoming schedule that included visiting LA Live on July 7, a ticker tape parade in New York City on July 10, the ESPYs in Los Angeles on July 15 and more. Both players are expected to take the field next week.
That's when the Washington Spirit take on the Chicago Red Stars at the Maryland Soccerplex at 7 p.m. on July 25th. You can purchase tickets now.
See more photos from the Washington Spirit vs. Seattle Reign FC game, below:
That World Cup Spirit! A quick look at @WashSpirit goals in Saturday's 3-0 win at a Packed Plex. #NBC4DC pic.twitter.com/q97rKV92Wt

— dckerNBC4 (@dckerNBC4) July 19, 2015
Franchise record crowd propels Spirit to a 3-0 win over the Reign #FEARit #PackedThePlex http://t.co/u0nwBSt2S9 pic.twitter.com/uiGZAIUzh3

— Washington Spirit (@WashSpirit) July 19, 2015
.@alikrieger & @Ashlyn_Harris signing for fans after our 3-0 win over @SeattleReignFC #NWSL #PackedThePlex pic.twitter.com/KTXF0Qoo6i

— Washington Spirit (@WashSpirit) July 19, 2015
FT: Spirit 3 – 0 @SeattleReignFC Goals: Da Costa, Dunn, Nairn Still undefeated at 🏠 😎 pic.twitter.com/bhLVfYNneN

— Washington Spirit (@WashSpirit) July 19, 2015
Great sign or the greatest sign? #WeBelieveInTheNWSL pic.twitter.com/MpCHsGPKHO

— Washington Spirit (@WashSpirit) July 19, 2015