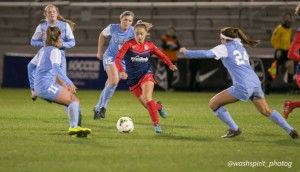 Washington Spirit Over UNC, 1-0 (VIDEO)
The Washington Spirit closed out its preseason with a 1-0 victory over the University of North Carolina on Saturday evening at the Maryland SoccerPlex. If you missed the game, you can watch highlights in this YouTube video, below:
The Washington Spirit will begin its 2015 season on the road facing the Houston Dash at BBVA Compass Stadium on Friday, April 10. The Spirit will make its home debut against FC Kansas City at Maureen Hendricks Field the following weekend at 7 p.m. on Saturday, April 18.