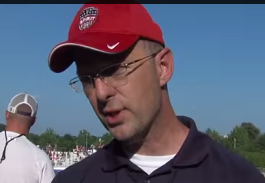 Washington Spirit Release Statement About Decision to Play National Anthem Ahead of Schedule
The Washington Spirit has released a statement about the owner's decision to play the National Anthem ahead of schedule on Wednesday night at the Maryland SoccerPlex.
Read the statement in its entirety, below:
"In light of Seattle Reign and U.S. Women's National Team member Megan Rapinoe's public declaration that she intended to 'take a knee' during the United States' National Anthem tonight, we decided to play the anthem in our stadium ahead of schedule rather than subject our fans and friends to the disrespect we feel such an act would represent.
"We understand this may be seen as an extraordinary step, but believe it was the best option to avoid taking focus away from the game on such an important night for our franchise.
"While we respect every individual's right to express themselves, and believe Ms. Rapinoe to be an amazing individual with a huge heart; we respectfully disagree with her method of hijacking our organization's event to draw attention to what is ultimately a personal – albeit worthy – cause.
"As a veteran owned team, the national anthem holds an exceptionally special meaning for this organization. Our owner Bill Lynch has lost personal friends during overseas conflicts and has other close friends who have also lost loved ones. Playing the national anthem prior to sports events became standard during World War II and was a way to express the team's and fan's patriotism and show support for the U.S. Military. The tradition of honoring our military and our patriotism before our games is very important to us. We strongly feel that there are better ways to begin a conversation about a cause than tarnishing a tradition that is so important to so many.
"To willingly allow anyone to hijack this tradition that means so much to millions of Americans and so many of our own fans for any cause would effectively be just as disrespectful as doing it ourselves. Professional athletes have incredible numbers of followers, to which we believe they have the ability to articulate a conversation with objectives and plans and begin a serious conversation directly, or through traditional media appearances, without insulting our military and our fans.
"We do regret that this decision has denied the players who had no intention of taking a knee their own opportunity to honor our great country from the field. This is an issue we are communicating to and with them about personally."
Updated Washington Spirit/national anthem story: https://t.co/cAGr640FHW #nwsl #rapinoe

— Steven Goff (@SoccerInsider) September 8, 2016
The Washington Spirit rescheduled the national anthem so Megan Rapinoe couldn't protest:https://t.co/yJKwbMZhS5 pic.twitter.com/4kfIfC4Mcb

— SB Nation (@SBNation) September 8, 2016
Washington Spirit Owner Doesn't Allow National Anthem to be 'Hijacked' https://t.co/3DttkDRjAr pic.twitter.com/5KGyhHdMLC

— Germantown Pulse (@GermantownPulse) September 8, 2016
Washington Spirit prevent Megan Rapinoe from kneeling during U.S. anthem by altering pregame soccer ceremonies. https://t.co/wncBT1bUMy

— The Associated Press (@AP) September 8, 2016