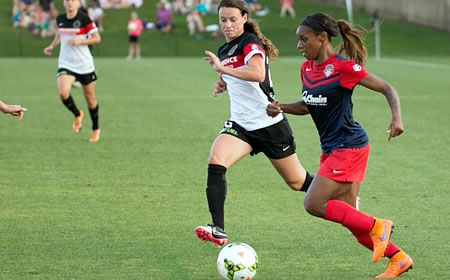 Washington Spirit Will Try to Clinch Playoff Spot Tonight
The Washington Spirit play FC Kansas City at 8 p.m. tonight at Swope Soccer Village in Kansas City. A win clinches a playoff spot for the Spirit, meanwhile a loss would leave the door open for Portland Thorns FC to possibly snag the final playoff spot.
"The team is in great shape heading into the game against FC Kansas City," said head coach and general manager Mark Parsons. "Training has been very sharp and the team is determined to get a win. I am excited to see the team give everything on Thursday and I feel confident we will put in a strong performance."
With the Chicago Red Stars' 0-0 draw against the WNY Flash on Sunday night, both the Red Stars and FC Kansas City secured spots in the post season. Meanwhile, the final spot will be claimed by either Portland Thorns FC or the Washington Spirit. Washington has a tough final three matches facing FC Kansas City and the Thorns on the road before returning home to close out the season against the league leading Seattle Reign FC.
FC Kansas City and the Spirit have already met twice this season with each team earning a win at home. The Spirit's 3-1 victory came in April, while the Blue's 3-0 win occurred in July while both teams national team players were in Canada competing for the World Cup.
Thursday's match up between the sides will have a different intensity than the previous two meetings thanks to the bolstered rosters featuring all national team players including U.S. players Ali Krieger and Ashlyn Harris. The playoff implications to the match may ensure even further excitement and tension. If that wasn't enough, Thursday's game will also be Lauren Holiday's final match in front of the FC Kansas City faithful. Holiday, a decorated and respected player on both the USWNT and within the NWSL will be hoping for a positive result in her final appearance at home.
The Spirit players continue their three game road series on Sunday when they play Portland Thorns FC in front of a sold-out crowd at Providence Park.