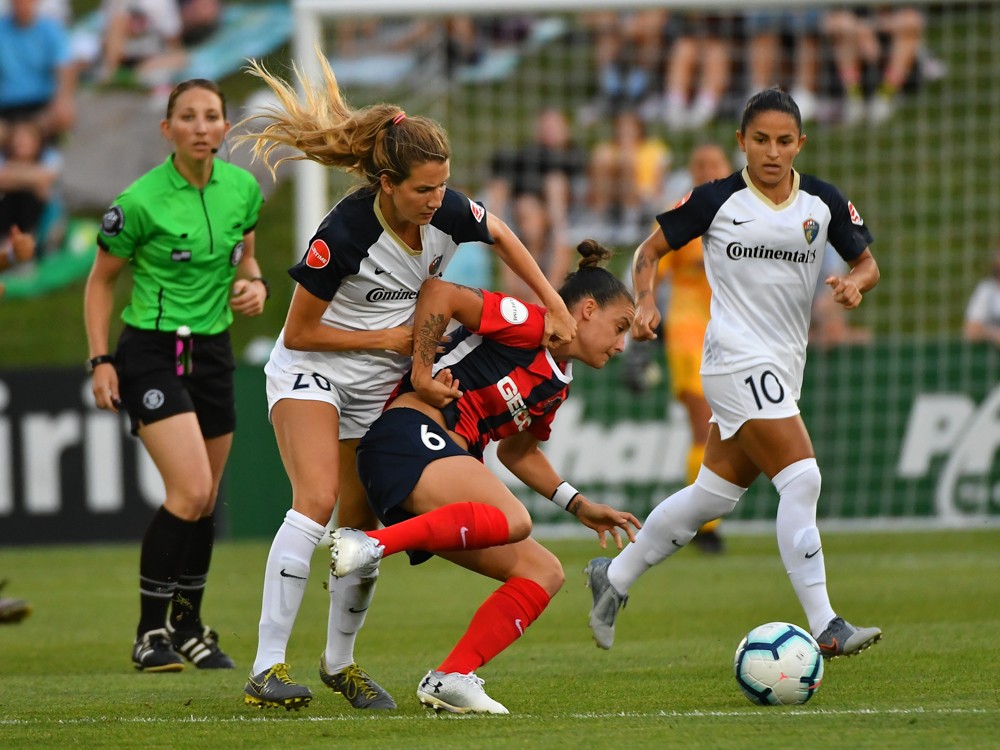 Washington Spirit's Loss to North Carolina Courage Ends Streak
In front of a crowd of 2,481, the Washington Spirit ended their seven game no-loss streak to the North Carolina Courage 1 – 2, Saturday June 29 at the Maryland SoccerPlex in Boyds. North Carolina scored first but not until the third minute of added time in the first half. The goal was the result of a blocked penalty kick by McCall Zerboni. Spirit keeper Aubrey Bledsoe blocked the kick but was unable to hold on to the ball. The ball ricocheted back onto the field of play where the Courage's Debinia took advantage of the wide open net with Bledsoe working hard to get back into position after stopping the first shot. There were no other Spirit players close enough to assist Bledsoe. The half closed with Carolina up 1 to 0.
Eight minutes into the second half of play, Carolina scored again, putting them up 2 to 0. Undeterred the Spirit poured on the pressure, showing the speed and quality seen in previous matches. The Spirit put a goal on the board at the 82nd minute. A crowd thrilling chain of events, started with an inbound pass from Staab that Bayley Feist headed towards Crystal Thomas. Thomas slotted the ball into the back of a net for a stunning goal late in the game.
Spirit Captain Andi Sullivan said the teams slow start is what cost them the time needed to win the match. She summed it up stating, "I think we knew they were going to high press us, but I think we so, we came out of the gates slow and you can't do that and I think it took us to the second half to really play our game."  She went on to talk about the momentum shift in the second half when the subs put on the field lit a renewed effort within the Spirit. She said the mood of the crowd changed quickly when the subs came on to the field. The team was back in their game and finally stopped the high press of the Courage.
The Spirit loss drops them into second place in the National Women's Soccer League (NWSL) standings. Only the top four teams in the league make the playoffs. Currently first place to fourth place are separated by 2 points. It's a tight race. The impending return of the national team members to their respective NWSL club teams will widen the points gap over the next two months. The Spirit's rise to the top of the league from the bottom last season is spectacular. Will the Spirit be able to stay in the top four?